New and Expanding Offices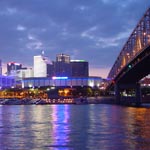 SSOE recently opened a new office in Chicago, Illinois. This office will serve local clients as well as act as a resource pool for the recruitment of national talent.
SSOE is also expanding three existing locations – Cincinnati, Ohio; Midland, Michigan; and Toledo, Ohio. The Cincinnati office will be adding staff and square footage to accommodate additional professional horsepower. Midland will also be expanding their office and doubling the current number of workstations in the coming months to make way for additional staff. Last but not least, the Toledo office has added over 120 jobs this past year, and relocated corporate staff to make room for additional operations.
You can follow any responses to this entry through the RSS feed. Responses are currently closed, but you can trackback from your own site.