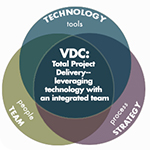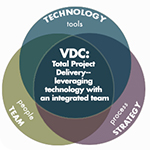 SSOE's mission: making clients successful by saving them time, trouble, and money.
We know our clients don't come to SSOE looking for the latest trend. On the contrary, we are consistently challenged to bring better results. It's clear that VDC will only be relevant to our clients if it fulfills our mission and helps us keep our "Value Promise."
Let's take a quick look on how VDC can impact…
…design fees?
VDC tends to shift effort from late in design and early in construction (e.g., shop drawings) forward into earlier design phases, so the expense for the engineering / design phase may be higher. However, by increasing the efficiency of the overall process, we are also making design more valuable.
…overall project cost?
While design fees may be higher, overall project cost is lower due to a reduction in rework and performance gains during construction. Clearly, this much larger piece of the pie is where cost savings make a true impact.
…schedule?
VDC often has a significant improvement / compression effect. In fact, SSOE has seen an average of 25% reduction in overall project schedule on our projects that use some aspect of VDC delivery.
Proven Results
To better determine the specific source of cost and schedule savings on VDC projects, construction firm Mortenson conducted an in-depth analysis of their own VDC portfolio. Their findings are presented in the infographic below. Especially relevant is the breakdown they include of what specific tasks impact project cost, schedule, and productivity.
Return to SSOE's VDC Blog page >>
This infographic is used with permission from Mortenson.com. Click the image to view the original.
https://www.ssoe.com/wp-content/uploads/2015/03/150x150_SSOE_saving-time-trouble-and-money-with-VDC.png
150
150
hitch
https://www.ssoe.com/wp-content/uploads/2018/05/logo_ssoe.png
hitch
2015-03-05 13:30:03
2018-06-12 17:25:42
Saving Time, Trouble, & Money with VDC