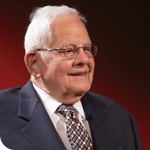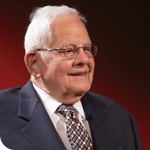 Thousands felt his influence.
With the passing of our founder, Alfred (Al) Samborn, we're losing the kind of individual many of us want to be—someone whose actions benefit thousands. During his 36-year tenure as CEO, he saw his vision of creating a world-class engineering and architecture firm materialize. Then he was on to his second successful engineering career as a professor.
Al earned a civil engineering degree from The University of Toledo in 1939 and completed graduate study at Case School of Applied Science in Cleveland. He started his career as a structural engineer for a Detroit firm in 1941. During WW II, he enlisted in the military and was part of the V7 Program as an apprentice seaman, advancing to the rank of lieutenant in the Civil Engineering Corps (Seabees) of the United States Naval Reserve.
Al's skills as an entrepreneur guided the firm to its current ranking as the eighth largest E/A firm in the country. He recognized the growth potential in adding architecture to the firm's growing list of services. In the late 50's, he and his then partner Jack Steketee invited architects Erwin Otis and John Evans to join the firm's leadership team.
This set the stage for the debut of Samborn, Steketee, Otis and Evans, Engineers and Architects, later SSOE. Al was also the driving force behind his firm's early application of computers to engineering design and authored many technical papers and articles. His contributions to the engineering profession far exceeded growing a prestigious international company. In 1984, after turning over the reins of management to the generation of leaders he helped nurture, he became a professor of civil engineering at the University of Toledo. For over a decade he was both teacher and mentor to aspiring engineers. He believed in the value of real work experience, so he helped develop a cooperative program in which students alternate between semesters of academic courses and engineering-related jobs. Similar programs exist throughout the company today.
Throughout his career, he held leadership positions in both local and national professional organizations including serving as director of the National Society of Professional Engineers and President of the National Council of Engineering Examiners. A long list of civic organizations also benefited from his years of service. The awards
and recognition he earned in the course of his life acknowledge the energy and effort he put forth as a community volunteer and business leader. The news of Al Samborn's death calls attention to his remarkable life and the legacy he left to SSOE, to the students he taught, and the design profession as a whole.
https://www.ssoe.com/wp-content/uploads/2009/04/150x150_SSOE_thank-you-mr-samborn.png
150
150
hitch
http://www.ssoe.com/wp-content/uploads/2018/05/logo_ssoe.png
hitch
2009-04-11 13:19:08
2018-07-11 18:24:31
Thank you, Mr. Samborn.