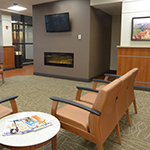 Craig Pickerel, project manager and architect at SSOE Group, is featured in this article recently published in Healthcare Design Magazine. The article focuses on the growing trend of emergency department (ED) expansion and the latest variations in healthcare facility design used to accommodate the operational changes and improve the end-user experience.
EDs, by design, offer rapid and diversified care, and are typically the first — sometimes only — space within a hospital a patient experiences. Quite often, EDs are the "introduction to the hospital for patients," says Pickerel, also sharing his notion that "a well-maintained space can transform the perception of care." Warm colors, inviting entries, and the right lobby décor can become a differentiator in the increasingly competitive emergency care market.
With a wide spectrum of care required, an unceasingly high volume of patients, and emerging competition, many organizations are responding by making significant changes operationally to better serve. Some adaptations include implementing a 'fast-track care' approach and positioning physicians up front to better assess patients upon arrival — utilizing space while still controlling the environment, improving care and comfort without sacrificing functionality. The designs of these spaces are being modified to more easily integrate these kinds of trends, reevaluating components such as layout, aesthetics, equipment, and furnishings to more effectively treat the varied needs of patients, while also providing a warmer experience to them.