SSOE Group and M.E.I. Announce Malaysian Joint Venture
Joint Venture named SSOE & M.E.I. Project Solutions SDN. BHD.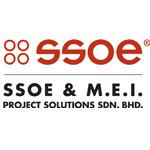 TOLEDO, Ohio, July 18, 2013 – SSOE Group (www.ssoe.com), a global engineering, procurement, and construction management (EPCM) firm, today announced the formation of a joint venture with M.E.I. Project Engineers Sdn. Bhd., a multidiscipline EPCM firm. The partnership will bring clients a number of benefits including additional technical resources, a greater scope of technical services, expanded project management systems, as well as increased geographic coverage. The joint venture, known as SSOE & M.E.I. Project Solutions was registered as an entity in Malaysia on December 12, 2012.
M.E.I. is a 100+ person firm with three offices in Malaysia and one in Singapore. They have been the recipient of several Engineering Excellence Awards in Malaysia and The Association of Southeast Asian Nations (ASEAN), including the 2012 ASEAN Outstanding Engineering Achievement Award. Since 1988, they have provided engineering solutions to a wide spectrum of clients including process, piping, instrumentation, civil, structural, mechanical, and electrical engineering. M.E.I. has successfully executed projects in Malaysia, Singapore, Thailand, Indonesia, Vietnam, and the Philippines.
Commenting on the joint venture, General Manager of SSOE's Asian Operations, Andrew Kwok, remarked, "It was important for SSOE to find an experienced and reliable partner to help bring our clients local experience in Malaysia and Southeast Asia. M.E.I. is a renowned engineering firm with a successful track record of serving Western clients and a similar culture of technical expertise, Great Client Service, and a commitment to delivering value on projects."
SSOE has been performing work in Southeast Asia for more than 20 years covering the manufacturing, energy/power, and food and beverage markets. To support operations in this growing region, SSOE also recently opened an office in Singapore.
Bob Howell, Chief Operating Officer of SSOE Group will serve as the Chairman of the Board for SSOE & M.E.I. Project Solutions. Lim Kok Khong, Managing Director and Dr. Goh Teik Cheong, Executive Director of M.E.I and Andrew Kwok will serve as the Joint Venture's Directors.
To learn more about this joint venture visit www.ssoe-mei.com
About SSOE Group
As a Top 10 Engineering / Architecture firm for the past 5 years, SSOE Group focuses on delivering Great Client Service to clients through a full range of project delivery solutions. They have been named a "Great Workplace" (Great Place to Work®) and one of the "Best AEC Firms to Work For" (Building Design + Construction).
With more than 20 offices around the world, SSOE is known for making its clients successful by saving them time, trouble, and money. Over the company's 65+ year history, it has earned a reputation for providing quality project solutions to semiconductor, automotive, food, chemical, glass, manufacturing, healthcare, power, and general building industries—with projects completed in 40 countries. Visit www.ssoe.com for additional information and career opportunities.
Media Contact:
Jenni Roder
(419) 469-1918
(419) 351-6480 cell
jroder@ssoe.com
You can follow any responses to this entry through the RSS feed. Both comments and pings are currently closed.