SSOE Group Awarded Chinese Design License; License Enables SSOE to Expand Scope of Services within China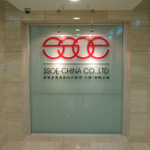 TOLEDO, Ohio, JUNE 26, 2009-SSOE Group took a significant step forward when the EPCM firm was awarded its Chinese design license from the Chinese government. The license allows SSOEto directly perform architectural and engineering detailed design services for its clients within China.
Until the license was issued, SSOE was required to direct all of its architectural and engineering design efforts through one of the Chinese design institutes. "We're ecstatic to have this design license because it allows us to work more extensively for companies with major projects in China," said Bob Howell, Executive Vice President and Chairman of the Board at SSOE. Howell also oversees the direction of SSOE's China office, located in Shanghai.
SSOE China's General Manager, Andrew Kwok attributed the award of the license, in part, to strategic efforts aimed at growing the reputation of SSOE's Shanghai office. "The design license, which requires meeting a number of stringent Chinese statutory requirements, is a culmination of SSOE's established reputation for successfully meeting the needs of our clients in China," Kwok said. The Shanghai office, SSOE Group China , opened in January, 2005. Currently, it is the second largest office in SSOE's operations, with 106 employees.
According to Kwok, between 40 and 50 more people are projected to be added to the office by 2010. Prior to the licensure, SSOE Chinawas managing 60 to 80 people operating in China's design institutes. The new employees will work directly for SSOE.
About SSOE Group
As a Top 10 Engineering / Architecture firm for the past 5 years, SSOE Group focuses on delivering Great Client Service to clients through a full range of project delivery solutions. They have been named a "Great Workplace" (Great Place to Work®) and one of the "Best AEC Firms to Work For" (Building Design + Construction).
With more than 20 offices around the world, SSOE is known for making its clients successful by saving them time, trouble, and money. Over the company's 65+ year history, it has earned a reputation for providing quality project solutions to semiconductor, automotive, food, chemical, glass, manufacturing, healthcare, power, and general building industries—with projects completed in 40 countries. Visit www.ssoe.com for additional information and career opportunities.
Media Contact:
Jenni Roder
(419) 469-1918
(419) 351-6480 cell
jroder@ssoe.com
You can follow any responses to this entry through the RSS feed. Responses are currently closed, but you can trackback from your own site.