SSOE Wins University of Toledo HR Award for Excellence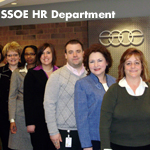 TOLEDO, OH, July 25, 2008 – SSOE, Inc. one of the nation's largest architecture and engineering firms, is proud to announce that they have received the 2008 Human Resource Management Award for Excellence from the University of Toledo, The Employers' Association, Toledo Area Human Resource Association and The Mergis Group. The award honoring human resource and management techniques used to help grow their businesses and drive economic development in the region was given at the Society of Human Resource Management (SHRM) Toledo Chapter (TAHRA) breakfast.
"SSOE is using smart management practices to keep and recruit the best business talent to Toledo," said Dr. Clint Longenecker, Stranahan Professor of Leadership and Organizational Excellence. "They are a business who could teach everyone in the region a thing or two about brain gain and economic development in this city."
This award showcases SSOE's continual drive to analyze and implement changes and is their validation that they have the right human resources practices and initiatives to meet their business objectives. Their strategy is simply to hire, develop, reward and retain the best people. In today's volatile employment market that is easier said than done.
"Our vision is to be the 'Company of Choice' for clients and employees. Our strategy is to hire, develop and retain the best talent. Happy staff equals happy clients and happy clients equal happy staff. We keep our employees happy by providing career growth and wealth creation opportunities. We make our employees successful by providing the highest Employment Value Proposition" stated Monica Dugan, SPHR, Vice President, and Corporate Director, Human Resources.
SSOE was also presented with the Employers' Association of Northwest Ohio & Southeast Michigan 2008 Research Award for outstanding utilization and support of the Employers' Association Research Department.
About SSOE Group
As a Top 10 Engineering / Architecture firm for the past 5 years, SSOE Group focuses on delivering Great Client Service to clients through a full range of project delivery solutions. They have been named a "Great Workplace" (Great Place to Work®) and one of the "Best AEC Firms to Work For" (Building Design + Construction).
With more than 20 offices around the world, SSOE is known for making its clients successful by saving them time, trouble, and money. Over the company's 65+ year history, it has earned a reputation for providing quality project solutions to semiconductor, automotive, food, chemical, glass, manufacturing, healthcare, power, and general building industries—with projects completed in 40 countries. Visit www.ssoe.com for additional information and career opportunities.
Media Contact:
Jenni Roder
(419) 469-1918
(419) 351-6480 cell
jroder@ssoe.com
You can follow any responses to this entry through the RSS feed. Responses are currently closed, but you can trackback from your own site.