San Antonio News Article: "AAFES at Randolph AFB candidate for LEED certification"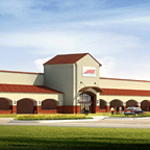 Base and post exchanges are known for their bargain prices, and now they'll be known for being environmentally friendly. The design-build team for the $30.9 million project was composed of the Michigan-based Walbridge Corp. and the Ohio-based SSOE Group.
Click here to read this article
You can follow any responses to this entry through the RSS feed. Responses are currently closed, but you can trackback from your own site.