Food Engineering Magazine: 35th Annual Plant Construction Survey – "Processors Prepare for Future Initiatives"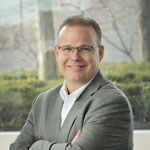 SSOE's Mike Murphy, Principal Division Manager is featured in Food Engineering magazine's June 2012 issue. This issue includes the Annual Plant Construction Survey in which Murphy shares his thoughts on the growing trends he has observed toward efficiency improvements, plant consolidations, and attempts to standardize production across facilities. He attributes these changes to ever increasing costs of raw materials, ingredients, energy, and shipping which presents a challenge for food manufacturers to maintain or increase profit margins.
Murphy also discusses the ramifications he anticipates as a result of the Global Food Safety Initiative (GFSI). Food manufacturers are becoming increasingly more aware of new food safety initiatives and regulations to keep up with Good Manufacturing Practices (cGMPs) and he shares the challenge some plants are experiencing in order to bring facilities up to speed with today's standards. In addition, trends toward sustainable practices for plants within the food and beverage industry are examined in this article.
For those who subscribe to Food Engineering Magazine, click here to read the full article.
You can follow any responses to this entry through the RSS feed. Both comments and pings are currently closed.