Reliable Plant Magazine Article: "Industrial Facilities and Processes: Are You Winning on Both Fronts?"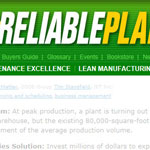 SSOE Group's Louise Schlatter, NCARB, LEED AP, and IET's Tim Stansfield, PE, Ph.D, discuss how strategic master planning can yield capital investment decisions that optimize facilities and process.
Click here to read this article »
You can follow any responses to this entry through the RSS feed. Responses are currently closed, but you can trackback from your own site.