Healthcare Design Magazine Article: "It's All in the Details"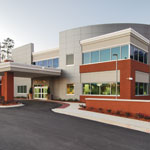 SSOE Group's Dave Verner, RA, ACHE, Deborah Suzan Huff, RA, LEED AP, and Health Care REIT's Betty Elrod discuss how proper coordination between consultants when incorporating FF&E into a project reduces change order costs and schedule delays.
Click here to read this article »
You can follow any responses to this entry through the RSS feed. Responses are currently closed, but you can trackback from your own site.
Tagged healthcare-feature