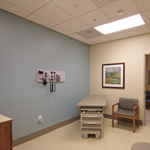 The healthcare field is ever-changing. With advancements in operational models and technology, Principal Robby Aull, AIA, ACHA, LEED AP, and Senior Associate Christine Adams, CHID, IIDA, shared their thoughts about some of the upcoming design trends they expect to see as the healthcare field evolves.
MidlandsBiz:
What is the outlook for healthcare, specifically new hospital construction, across the country and in South Carolina?
Robby Aull:
The healthcare industry continues to grow but is in a period of constant transition. One of the most important changes is hospitals are becoming systems of healthcare, and these systems include everything from primary and specialty care physician offices to outpatient imaging and surgery centers to the traditional inpatient hospital. Integrated systems like these continue to be developed across the country and in South Carolina. Prisma Health,  located in Columbia, and Greenville Health System, located in Greenville in the upstate region, have recently partnered to create the state's largest healthcare system.
MidlandsBiz:
What are the current trends you see in hospital design and construction?
Robby Aull:
The patients who are in hospitals today are generally sicker and frailer than in years past. Because of this, there is more equipment, more monitoring and more technology in general. At the same time, hospitals are being judged and even paid based upon patient satisfaction surveys. The design of spaces can help improve the overall experience and the overall healing process
MidlandsBiz:
So, the patient experience is still a priority?
Christine Adams:
Of course, the patient experience will always be a priority, but we're seeing a lot of focus on improving the experience for the staff as well. Providing staff with space plan consistency and efficiencies reduces their steps to critical equipment and supplies that help them to do their job. This reduces errors and in turn improves staff satisfaction and patient outcomes.
For example, at the Medical University of South Carolina's (MUSC) Surgical Trauma Intensive Care Unit, we included the installation of a light system in the staff breakroom area that provides a natural mid-day color temperature designed to keep employees more alert. In addition to the installation of the specialized light system, we also renovated the staff's work and teaching areas by incorporating more modernized environments that focus on alleviating stress and encourage interactions. All design elements that ultimately create a more pleasant experience for everyone.
In addition to the patient experience, we also consider the families' experience. Having family nearby is a big part of the healing process. We incorporate dedicated family spaces in the patients' rooms whenever possible. These spaces include amenities such as comfortable seating, controllable lighting, personal storage space, Wi-Fi, and outlets for charging personal electronics.
MidlandsBiz:
What are the challenges associated with designing hospitals?
Robby Aull:
Hospitals are one of the most technologically advanced environments. The heating and cooling, fire sprinklers, medical gas and electrical systems have to be coordinated within a design that creates a positive experience and aids in healing. Additionally, we also must integrate the latest technology into the current design while making spaces that can easily accommodate new and ever-changing technology being developed due to the pace of the industry. One example is the tunable lighting system currently being installed at Prisma Health.
MidlandsBiz:
What is tunable lighting?
Robby Aull:
Tunable lighting is a specialized system that mimics the light outside during a typical day. For instance, when the sun rises, it emits a warm yellow light. In the middle of the day, the light is cool, bright and blue, and by the end of the day, it is yellow again and very warm as the sun begins to set. Exposure to this normal, daily cycle reinforces our body's natural circadian rhythms.
Today, light fixtures using LED technology have the ability to emit light that can become warmer or cooler, which mimics the natural and daily cycle of the sun. In places where people do not have access to natural light, such as large warehouses or manufacturing plants, these lights provide the ability to imitate the sun's cycle. There has been research that demonstrates the positive effects on workers in these jobs, especially on night shift workers.
MidlandsBiz:
Why is tunable lighting an important addition to the healthcare industry?
Christine Adams:
Our goal as healthcare designers is to incorporate spaces that create positive experiences and promote a patient's natural healing process. Research specific to tunable lighting is beginning to show light used within a space can directly contribute to helping healthcare professionals, like us, create better environments for the end user.
The lighting industry has just recently been able to produce a wider variety of fixtures that are tunable and able to reach the right light temperatures and frequencies needed to have actual measurable benefits for people.
Hospital patients, especially the sickest and in intensive care, are often unable to maintain the body's natural circadian cycle, sometimes resulting in the onset of delirium that can lead to long-term issues even after they have recovered physically. Through the use of tunable lighting fixtures, we now have the ability to artificially create this light cycle, ultimately improving a patient's short and long-term recovery.
From a staff point of view, tunable lighting can affect how doctors and nurses perform. We are incorporating tunable lighting in these areas as a way to increase productivity and efficiency among hospital staff. Again, we expect these new environments will be especially beneficial to night shift employees.
MidlandsBiz:
Were there any challenges encountered during the design and construction phases of tunable lighting at Prisma Health?
Robby Aull:
Prisma Health is the first hospital that has incorporated tunable lighting on this scale. Because this technology is so new, it required a great deal of coordination with the manufacturer to determine how to integrate it into the design. We worked with them to determine which fixtures were available and which ones were appropriate to use in a hospital setting. Control of the lights was also a challenge. Instead of simple switches, the system is controlled by a centralized computer with a console in each room. This control system allows for future modifications to the tuning as more research is published. Since this system is so new, the project required an enormous amount of teamwork between the hospital's nursing, engineering, and maintenance staff along with our design team and the light manufacturer. Everyone had the patients' best interest in mind, which is why this project has been so successful.
MidlandsBiz:
How do you see this technology being used in other places or advancing over the next 10 years?
Robby Aull:
As more research is completed, I expect studies will show positive benefits for people in all types of situations and environments. For example, if research shows students are able to focus and learn better when a specific light color is used, then we will see this technology being incorporated into new school designs. The same ideas may apply to office, manufacturing centers, laboratories, hotels – the possibilities are endless.
Christine Adams:
I completely agree. I expect to see tunable lighting used more widely in educational facilities next. Numerous studies already have shown students of all ages benefit from access to natural lighting.
But, this lighting technique can be used in any industry. The hospitality and retail industries, for example, currently use music and color psychology, therefore tunable lighting could be used not only for psychological benefits but for long-term, long-lasting health benefits. Any place where people are spending longer amounts of time indoors, where there is a disruption in one's natural circadian cycle would benefit greatly from this technology.
Robby Aull, AIA, ACHA, LEED AP, principal and senior vice president, has more than 25 years of healthcare design experience and is responsible for project conception and development. Robby is a graduate of Clemson University where he received both a Bachelor of Science in Design and a Master in Design and Architecture.
Christine Adams, CHID, IIDA, senior associate and senior interior designer, specializes in the design of acute care facilities. Christine's expertise in programming, space planning, project coordination, and detailing, aids in her ability to create supportive and healing environments for her clients – projects that incorporate positive design principles for patients. Christine graduated from Appalachian State University where she earned her Bachelor of Science in Interior Design.
https://www.ssoe.com/wp-content/uploads/prisma-health_150x150.png
150
150
Hannah Lee
http://www.ssoe.com/wp-content/uploads/SSOE-1805-Reg-2.svg
Hannah Lee
2018-10-15 14:33:38
2023-01-06 12:13:04
SSOE Group Professionals Sit Down with MidlandsBiz