SSOE Group Expands Southeast U.S. Presence with Second Acquisition in 2012
SSOE Acquires MEP Firm CRS Engineering & Design Consultants (CRS)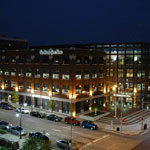 TOLEDO, Ohio, April 2, 2012 – SSOE Group, an international EPCM firm, announces the acquisition of CRS Engineering & Design Consultants, a 50-person mechanical, electrical, and plumbing engineering firm with offices in Birmingham and Huntsville, Alabama. The acquisition will expand SSOE's Southeastern U.S. presence, broaden CRS's reach to international markets, and provide both firms' clients access to enhanced services and resources.
CRS has been in business for over 36 years and is a multi-discipline engineering and design-consulting firm specializing in healthcare, government, higher education, and other institutional facilities. CRS offers services in electrical engineering, plumbing engineering, fire protection engineering, mechanical and HVAC engineering, lighting design, telecommunication design, and security system design.
SSOE and CRS have a history of partnering together for clients such as National Nuclear Security Agency (NNSA), ZF Transmission, and Nissan. Tony Damon, CEO of SSOE stated, "Both companies have served common clients for many years. While working together, we both recognized common cultures of delivering value, great client service, and commitment to employees. This acquisition will avail more resources to support both SSOE's and CRS's clients by expanding the range of services offered and our geographic reach." The addition of CRS's two Alabama locations will bring SSOE's total number of offices to 26.
Although this acquisition expands SSOE's local presence, they are no stranger to the Southeastern region. Currently, SSOE has 84 active projects in Alabama, Georgia, Mississippi and Tennessee. In fact, SSOE has had an office in Nashville, Tennessee for nearly 25 years and has served many of their Southeast U.S. clients from this location. Most recently, SSOE performed full EPCM services for Volkswagen's $1 billion assembly plant in Chattanooga. Additional Southeastern region clients include Nissan Mississippi and Toyota Mississippi.
Please visit www.ssoe.com/crs for more information.
About SSOE Group
As a Top 10 Engineering / Architecture firm for the past 5 years, SSOE Group focuses on delivering Great Client Service to clients through a full range of project delivery solutions. They have been named a "Great Workplace" (Great Place to Work®) and one of the "Best AEC Firms to Work For" (Building Design + Construction).
With more than 20 offices around the world, SSOE is known for making its clients successful by saving them time, trouble, and money. Over the company's 65+ year history, it has earned a reputation for providing quality project solutions to semiconductor, automotive, food, chemical, glass, manufacturing, healthcare, power, and general building industries—with projects completed in 40 countries. Visit www.ssoe.com for additional information and career opportunities.
Media Contact:
Jenni Roder
(419) 469-1918
(419) 351-6480 cell
jroder@ssoe.com
You can follow any responses to this entry through the RSS feed. Both comments and pings are currently closed.
Tagged front-page-feature