Architect Magazine: "Planes, Trains and Automobiles – The next generation of automobiles begins with the design of the factory"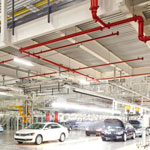 SSOE Group is featured in Architect Magazine's February 2012 issue. This article highlights the design and construction management SSOE performed for Volkswagen's new automotive assembly plant in Chattanooga, Tennessee.
Click here to read this article.
You can follow any responses to this entry through the RSS feed. Both comments and pings are currently closed.
Tagged automotive-feature, construction-feature, Design Feature, general-manufacturing-feature, Volkswagen