Building Design + Construction Article: "Scan, Deconstruct, Rebuild"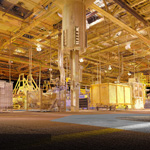 Building Design + Construction features SSOE Group. SSOE's Joe Gerweck, LEED AP, PMP, and Neil Wakeman, MCSE contributed to this article. Article highlights how laser scanning helped improve construction schedules, plans, and final designs for two Ford Motor Co. reconstruction projects.
Click here to read this article »
You can follow any responses to this entry through the RSS feed. Responses are currently closed, but you can trackback from your own site.
Tagged architecture-feature, automotive-feature, Design Feature