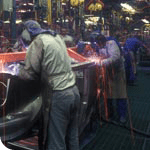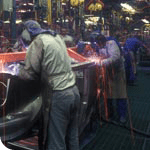 Many Americans were still finishing off Valentine chocolates wrapped in red foil on February 18. But if you were in China, the color red would be associated with money, clothing, and a PIG. February 18th was the Chinese Lunar New Year of 4704—the year of the Red Pig and the first day of a 15-day festival.
Recent events have left many wondering what the Red Pig year holds for China. Analysts cite many possible reasons for the biggest downturn in China's stock market in a decade including: the pressure for profit-taking days after the market hit a record high, growing concerns that China's government will seek to slow its tremendous growth, and even comments by former Federal Reserve Chairman Alan Greenspan to a business conference in Hong Kong that the US may be nearing the end of its prosperous economic cycle—proof that we are truly in a global economy.
What does all this mean for firms looking to enter the China market? Regardless of the reasons behind the "Shanghai Sneeze", the fact remains that China is a rapidly growing economy. China's economy grew 10.7 percent last year—the fastest rise since 1995—and a central bank report at the beginning of the year estimated it would expand 9.8 percent this year. This growth is producing an emerging middle class in China that will soon be one of the world's largest consumer markets.
Marketing to this emerging middle class will not be as intuitive as marketing to China's current middle class which is centrally located in cities and well educated in consumerism.
Take a look at China's New Middle Class: A Moving Target, for a discussion of how your firm can reach this new market.
https://www.ssoe.com/wp-content/uploads/2006/04/150x150_SSOE_a-new-year-in-China.png
150
150
hitch
http://www.ssoe.com/wp-content/uploads/SSOE-1805-Reg-2.svg
hitch
2006-04-09 19:21:09
2018-07-11 18:52:45
A New Year in China