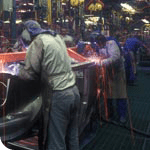 Cheap Labor – That's So 80s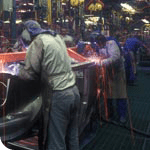 Foreign factories aren't just about cheap labor and low tariffs.
If your company has or is planning overseas production plants, follow the lead of superior global manufacturers. They have come to realize that using foreign factories exclusively for cheap labor is squandering an opportunity to gain competitive advantage.
Leading manufacturers are expanding and elevating the role of their foreign factories. "They use them not only to gain access to the usual incentives but also to get closer to their customers and suppliers, to attract skilled and talented employees, and to create centers of expertise for the entire company." (Kastra, Furtows, Harvard Business Review)
SSOE's China office, which has tripled in size and capacity over the last year, is taking advantage of these types of opportunities. SSOE China has developed relationships with an extensive network of local suppliers and has attracted a talented staff that values SSOE's global focus.
Studies show companies that stress the strategic role of manufacturing emphasize the intangible benefits of foreign plants like attracting global talent, gaining knowledge from foreign research centers, competitors, and foreign customers. They place less value on the lower cost of labor, taxes, capital, and so on. In fact, companies often find the areas of lowest wages also have lower productivity. Financially, it's frequently advantageous to locate plants where there is access to skilled labor and an advanced infrastructure – factors in SSOE's decision to locate in Shanghai.
Think of foreign factories as having a stepped hierarchy. The most basic type is used solely for producing items at low cost with minimal development or engineering activities. Their local managers do not negotiate with suppliers, or handle logistics. At the other end of the spectrum is a factory as a center of innovation that creates new processes, products, and technologies for the entire company. It is strategically located to take advantage of local skills and technological resources. Its managers and employees work directly with suppliers, research laboratories, and customers.
Between those two extremes are factories that serve different specific higher purposes. The company may need a factory to serve a local or regional market and be able to make product modifications to fit local conditions. Another type of foreign factory has sophisticated means for producing a product or a part and is lead by an autonomous management team that makes procurement, logistics, and redesign decisions.
Whether a company's intent is to enter the China market for its low cost labor, or to create a center of innovation, SSOE's local presence is a significant advantage. SSOE's staff of Chinese nationals can advise them on the country's complex business and regulatory landscape. While globalization has become a common strategy for American companies, firms that make the most of foreign operations will have the edge.
Companies need to ask what is the strategic reason for the factory's location and what is the scope of its operations. They can then determine if they need to move a factory up the strategic ladder.
Plan on spending several years, possibly decades to move from one stage to another. The process involves these steps:
First – Enhance the performance of the facility itself through improved layout, training of the workforce, and a focus on productivity and quality.
Second – Improve the network of external resources such as
suppliers and local partners.
Third – Acquire competencies beyond those required to meet
current production needs and focus on competencies needed to create new processes, products, and technology.
https://www.ssoe.com/wp-content/uploads/2006/12/150x150_SSOE_cheap-labor-thats-so-80s.png
150
150
hitch
http://www.ssoe.com/wp-content/uploads/SSOE-1805-Reg-2.svg
hitch
2006-12-10 12:58:37
2018-07-11 18:42:18
Cheap Labor – That's So 80s