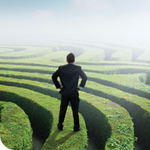 Four Roads to Energy Efficiency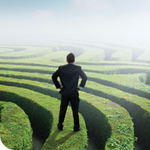 Is your company eager to become more energy efficient and reap the financial rewards, but you aren't sure where to start? Or maybe your company is one that equates energy efficiency programs to going on a diet. You know it would be good for you in many ways, and you keep talking about it, but you just haven't made it happen. Now, with energy costs on the rise and emissions reduction legislation pending in Congress, there are more reasons than ever to commit. The U.S. Federal Government is one source for free tools and programs to help companies map out a strategy for reducing their energy consumption and costs. This article is an overview of the various programs, and ways companies can be recognized for their achievements in sustainability and energy reduction.
Energy Management Programs and Assessment Tools
For companies whose immediate priority is cost savings, large-scale recognition programs that address multiple aspects of sustainability may be premature or overwhelming. A better option would be ENERGY STAR (R) or the Department of Energy's Industrial Technologies Program that give companies the assessment and planning tools they need to identify substantial energy cost saving opportunities. If desired, these can be the stepping stones to more broad sustainability recognition programs.
U.S. Environmental Protection Agency (EPA) ENERGY STAR Program
While most of us are familiar with the ENERGY STAR logo on appliances and electrical devices as an indication of superior energy performance, few realize that a business or facility can also earn that designation. ENERGY STAR is a program that offers guidance, tools, and recognition programs for improving the energy efficiency of facilities and the operations they contain. The program is unique in that it takes into account the business sector and facility type in its recommendations and assessments. It provides clear guidelines directed at hospitality, commercial real estate, K-12, and higher education facilities. It is also very useful for small to mid-sized manufacturing facilities that house industrial processes, like glass, food, or automotive.
ENERGY STAR allows you to design your energy efficiency program at a pace that meets your specific requirements. With ENERGY STAR you have the opportunity to be recognized through a national program with a highly recognized symbol. Another validating factor—several LEED energy credits require that you follow the ENERGY STAR protocols to determine the credit value.
U.S. Department of Energy, Industrial Technologies Program (ITP)
www1.eere.energy.gov/industry/
For those companies that have large industrial infrastructures, the Department of Energy's ITP program provides training, software, and guidelines on how to save energy. It is an excellent program if your process utilizes steam, compressed air, process heat or other operations that could potentially be sources of wasted energy. While ENERGY STAR is a good fit for companies and manufacturers in the defined markets mentioned above, ITP gives industrial companies a framework within which they can operate to achieve energy reductions.
For small and medium industrial users there are free energy assessments available from the national Industrial Assessment Centers that are part of ITP. The assessments can be performed by students from local colleges that have energy training programs. Large industrial energy users can take advantage of the Programs' Energy Experts–professionals certified in best practices for optimizing industrial energy systems.
ITP encourages companies to reduce their use through recognition programs including the Energy Champion and Energy Saver certifications. It also manages the "Save Energy Now Leader" program in which members pledge a 25% reduction in energy usage over 10 years.
Sustainability Recognition Programs
If you are looking for recognition programs that go beyond energy efficiency to encompass broader sustainability ideals, look into the Green Globes (R); and LEED (R); Certification programs. Both programs are internationally recognized and offer certification systems for both existing building and new construction. They evaluate performance in five key areas of human and environmental health: sustainable site development, water savings, energy efficiency, materials selection, and indoor environmental quality. Neither one addresses actual manufacturing processes, and they don't necessarily guarantee ongoing energy savings unless you develop well-executed operational procedures.
Green Globes
The Green Building Initiative (GBI) offers the Green Globes Certification Program–an in-depth certification system across multiple categories of sustainability projects for commercial and residential systems. The GBI is certified as a Standards Development Organization (SDO) by the American National Standards Institute (ANSI). Green Globes certification is no less stringent than LEED, just less well known. For companies that don't want to seek full LEED certification but want third party verification of their sustainability efforts, Green Globes is ideal.
LEED
The most highly recognized sustainability certification program is Leadership in Energy and Environmental Design (LEED) the sustainable building certification method offered by the US Green Building Council. LEED's four levels of certification correspond to a point system. The greater number of points you earn, the higher level of recognition. In addition to new construction and existing buildings, there are rating systems for commercial interiors, schools, retail buildings, healthcare, and others. LEED focuses on the overall sustainability of the facility and the facility's support systems as opposed to the processes it houses.
In Summary
Zach Platsis, SSOE's Renewable Energy Expert explains, "Companies need to ask themselves what their goals are. If you are looking for comprehensive tools to achieve maximum energy efficiency and reduce energy costs, ENERGY STAR; and ITP are the best resources. If the credibility of a certification is important, ENERGY STAR is an important precursor to GG or LEED. If your company has sustainability goals beyond energy consumption, but does not want to expend the effort and expense to be certified, just using the guidelines provided by Green Globes or LEED may be useful. For companies that are taking the first steps toward reducing energy consumption, ENERGY STAR is a great place to start."
How SSOE Can Help
SSOE Group's Energy Consulting team helps clients with their energy management initiatives whether you decide to qualify for a specific recognition program or want to follow your own game plan. For many companies, an energy assessment is the best place to start. Depending on the type, size, and condition of your facility or operations it may involve many disciplines including mechanical, electrical, process engineering and architecture. As an EPCM firm we have those disciplines in-house and can also execute energy-savings projects on multi-building campuses or on a large number of facilities. Selecting an EPCM firm at the assessment phase, gives you the advantage of using the same company for any construction needs—one that is already familiar with your operations.
To find out more about out energy management services, contact Zach Platsis at zplatsis@ssoe.com.
https://www.ssoe.com/wp-content/uploads/2010/12/150x150_SSOE_four-roads-to-energy-efficiency.png
150
150
hitch
http://www.ssoe.com/wp-content/uploads/SSOE-1805-Reg-2.svg
hitch
2010-12-11 13:34:25
2018-07-11 17:57:41
Four Roads to Energy Efficiency