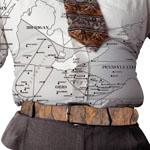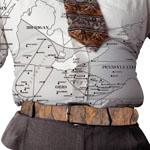 Looking out the window of SSOE's world headquarters in Toledo, Ohio on a gray January day, one might wonder why publications like the Wall Street Journal and Newsweek recently cited this city as a center for the solar industry. But the designation isn't based on the amount of sunshine; rather how to put it to work. Toledo, long considered a "rustbelt" city, is applying the strengths it acquired in its manufacturing heyday to new markets, solar energy for one. It's doing so by forging partnerships with local businesses, higher education, and government.
SSOE is undergoing a parallel transformation as it enters its 60th year. It's redirecting the manufacturing capabilities that led to robust growth in the past to take advantage of new opportunities. Here's a look at how a global company and its community are reinventing themselves as leaders in emerging alternative energy markets.
For years, Toledo was home to big players in the glass industry, earning it the moniker, the "glass city." Along with glass, Toledo had been a hub for the automotive, manufacturing, and energy industries. As with the rest of the country, Toledo suffered a steady decline in manufacturing sector jobs over the last several decades.
SSOE, as an enterprising, growing company, impacted the Toledo area's economy. The company spent its formative years building its manufacturing muscle powered by those same strong markets. Along the way, it made inroads into healthcare, retail, and higher education on a national scale. But the downward spiral in manufacturing was bound to hurt, and like its home city, SSOE was not content to simply go along for the ride.
Although SSOE's base was in traditional industries, early on it developed a progressive culture that embraced change. It already had the capability to take projects from start to finish by virtue of its broad range of expertise. As new markets in alternative energy opened up, SSOE "retooled" some of its existing services and added new ones. It continues to be a full-service resource. The strategy is working. Fifty percent of SSOE's employees have worked on alternative energy projects in the last year, and 30% of current projects are in that sector.
Both the City of Toledo and SSOE realize the value of working collaboratively with local businesses, educational institutions, and regional government to reenergize the area's economic base. The University of Toledo, with a graduate engineering program ranked 18th in the country by the Princeton Review, tops the list. It follows that UT has been SSOE's prime resource for engineering talent over the years. As far back as two decades, UT capitalized on the area's strengths in the glass industry and began researching solar cells. It took that commitment up a notch recently by establishing the Clean and Alternative Energy Incubator that has launched four successful solar start-ups including Xunlight, recently featured in Newsweek. UT has also teamed up with Ohio State University and Bowling Green State University along with non-profit organizations and industries to form the Wright Center for Photovoltaic Innovation & Commercialization (PVIC) to stimulate high-tech jobs related to the clean generation of electricity.
In that same spirit of "we're all in this together," Toledo's Regional Growth Partnership, a private-sector driven and funded economic development group, came to be. Among its many initiatives to support local economic transformation is Rocket Venture, a venture fund that helps launch technology-based companies.
As the concerted efforts of business, education and government bear fruit, the Toledo area is beginning to emerge from the shadow of the rustbelt … perhaps as the new "solar city."
For SSOE, its 60th year comes in the midst of its evolution. The last three years of double-digit growth prove that it's possible to make new opportunities by building on past strengths. Through its history, SSOE developed the culture, talent and skill to prosper through six decades of change…and to anticipate what's next.
https://www.ssoe.com/wp-content/uploads/2008/12/150x150_SSOE_loosening-of-the-rustbelt.png
150
150
hitch
/wp-content/uploads/2018/05/logo_ssoe.png
hitch
2008-12-10 20:22:31
2018-07-11 18:26:25
Loosening of the Rustbelt