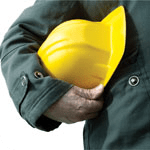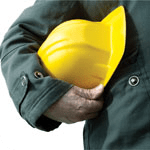 For manufacturing companies, worker safety issues are a constant. Avoiding hazards and accidents is complicated since it involves controlling machinery, human behavior, and power in various forms—factors that are continually subject to change. This article focuses on four critical areas where proper procedures and equipment are central to the health and safety of workers in industrial environments. It references experiences of SSOE's engineers in helping clients avoid common hazards in and around plants.
Protective Facilities
Due to recent catastrophic loss of life in explosions occurring in the refining industry, refiners and other chemical manufacturers are developing and implementing procedures to protect employees and contractors who work close to hazardous processes. Currently, revisions to existing governmental regulations for employee protection in blast zones are under development but not yet complete. Faced with no precise legislative standard in place for compliance, a major oil company called in an SSOE team of engineers and architects to develop a Protective Facilities Siting Plan for its refinery.
First, SSOE wanted to understand where people work within the complex. If they currently were housed within a blast zone, was that necessary? Could they be relocated to a more remote location to mitigate the effects of the blast pressure wave? The next step was to allocate appropriate spaces both inside and outside the blast zones where people could work safely and effectively and then design facilities that would protect the worker from harm at the specific location of the structure.
In creating or reinforcing blast resistant buildings, the client needed to decide how blast resistant the buildings should be. Beyond the minimal requirement of keeping the people inside safe, did they want them to be so indestructible that they would be almost impervious to damage? A combination of pre-fabricated modular blast-resistant buildings, robust site constructed blast resistant structures and conventional structures built outside the blast zones were sited and designed so that, in the case of an event, the employees inside would not be fatally harmed by the collapse of the structures.
Lock Out / Tag Out Procedures
To understand the importance of lock out/tag out procedures, consider this: according to a U.S. Bureau of Labor Statistics study of injuries related to servicing equipment, 80% of the surveyed workers neglected to turn off equipment before performing the work. When lock out/tag out practices are followed correctly, the chance that a machine will startup unexpectedly or release energy during maintenance is eliminated. The first step in the procedure is to disconnect the equipment from the energy source. Next, workers must de-energize the energy source to dissipate any stored energy, lock any switches or valves, and then verify that each step was performed correctly. All persons doing maintenance should be issued their own locks and keys to assure that unauthorized persons cannot override the lock out.
SSOE engineers have helped many clients write clear lock out/tag out procedures. They explain, "If a piece of equipment has three energy sources, you have to lock out all three." An owner's best intentions can be wasted if the procedures are not communicated effectively. "The procedures need to be written clearly, must be easy to understand, and posted where people will see them." One strategy is to post photos showing the location of valves and switches and mount these, along with the procedures, on the equipment.
Arc Flash Analysis
Any facility where there is equipment that needs maintenance or adjustment while it is electrically energized has the potential for inadvertent electrical shock contact and the heat, sound, force and molten metal known as arc flashes. Because they can cause serious injury to people and equipment, OSHA and the National Fire Protection Association (NFPA) have established standards to control these hazards. OSHA guidelines require conducting Hazard Analyses to identify the appropriate precautions and personal protective equipment that an individual should use when exposed to these hazards at a facility. These include analysis of the Arc Flash Hazard—a service SSOE has performed for many clients. SSOE starts by evaluating the existing electrical system and making empirical calculations to evaluate the energy that could be released in an arc occurring during a fault condition at any point in a system. This often reveals unsafe situations of which the client is unaware. With this information, SSOE can determine the NFPA defined risk category at each equipment location. These risk categories are important in prescribing the level of Personal Protective Equipment (PPE) electricians need to use when servicing energized equipment in that facility.
As mentioned earlier, OSHA does recommend that all equipment should be de-energized before servicing. This still presents a potential arc flash hazard when tests are conducted to confirm that the electrical source is de-energized. SSOE can recommend ways of mitigating the hazards by limiting the amount of current and the length of time it is available. SSOE offers three levels of training programs to its own personnel so they are equipped to avoid these hazards on the job and can provide introductory training to clients.
Load Rack Safety
Load racks give workers access to top-loading tanker trucks and rail cars. While off-the-shelf load racks and gangways (the folding stairs between the load racks and the top of the tank) have built-in safety features, they are, by necessity, generic enough to work in many types of facilities. To achieve a higher level of safety, many companies customize this equipment and upgrade its features – a service SSOE offers. SSOE recently completed a project that exemplifies the scope of safety improvements its engineers can provide. In this case, the client's intent was to standardize the customized features throughout its facilities so that workers will know how to operate equipment safely at any location.
The SSOE safety-enhanced version of the load rack included improved controls and safety interlocks, as well as better lighting. The operator interface was redesigned to assure that safety interlocks and protocol for loading are satisfied prior to the start of loading. To satisfy safety and ergonomics many of the hand-operated valves were replaced with actuated valves. SSOE also integrated the control of the hydraulic gangway as part of the load rack controls. The hydraulic actuated gangways were installed to prevent injuries related to strain and poor ergonomics. In some areas, SSOE added stairs or extended platforms to create an optimal distance between the operator and the fill point.
SSOE has many engineers with the training and experience to assist clients with these safety issues and many others. As safety experts, SSOE can determine the most cost-effective way to deliver the highest level of safety in a given facility.
https://www.ssoe.com/wp-content/uploads/2008/12/150x150_SSOE_making-common-safety-hazards-less-common.png
150
150
hitch
/wp-content/uploads/2018/05/logo_ssoe.png
hitch
2008-12-10 20:17:38
2018-07-11 18:26:59
Making Common Safety Hazards Less Common