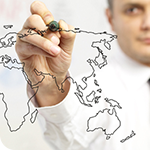 The Global Economy: the more things change, the more things change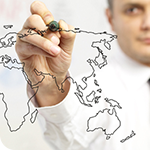 Challenging. Competitive. Rich with opportunities. From where we sit as a global provider of EPCM services, those words sum up the world's current economic landscape. Our management team, like yours, studies information on economic trends and their affect on the production of goods and provision of services worldwide. Our expansion plans are all about being wherever our clients want to be.
The statistics pouring out of business media outlets paint a picture of unprecedented growth in areas of the world that until recently were considered minor league. One source called these emerging markets "the world's economic growth engine." However, focusing only on these hot spots would be shortsighted. A more accurate assessment factors in how companies in developed economies are also capitalizing on this growth.
These are some of they key trends we are watching as noted by econiomic experts:
Adjusted for variations in purchasing power, the rise of emerging marketing is very impressive: the International Monetary Fund (IMF) forecasts the total GDP of emerging markets could overtake that of the developed economies as early as 2014. Rapid population growth, sustained economic development, and a growing middle class support this trend. Billions of new middle-class consumers in the emerging markets represent new markets for developed-world exports as well as attractive locations for corporate expansion.
In addition to their growing consumer base, emerging markets also present opportunities from growing corporations. Business-to-business sales to China and India, for example, are a key factor in Germany's strong export economy.
The brightest spots for foreign direct investment (FDI) continue to be Africa, the Middle East, and Brazil, Russia, India and China (the BRICs), with Asian markets of particular interest currently.
Brazil is one of the fastest growing economies in the world with approximately US$50 billion being invested in construction over the next couple of years. Over roughly the last decade, exports to Russia grew from US$22 million to over US$4 billion and exports to India soared from US$200 million to almost US$3.5 billion.
Global demand for the country's mineral resources, oil, and gas are increasing the projected growth rate  of South Africa to 6% and expanding its middle class. Several African countries are growing at rates similar to the BRIC countries.
Continued high global prices for energy and other natural resources will drive increased development of Canadian energy and mining resources. These developments offer substantial opportunities for U.S. renewable energy, mining, oil and gas and environmental-related sectorsare driving trends in a wide variety of sectors as well as the limiting the availability of engineering resources.
As you will see from our interactive map, SSOE's expansion strategy in China, India, Brazil, South Africa, and Canada aligns with these major trends. We've also highlighted recent accomplishments in helping clients grow globally.
To learn more about SSOE's international capabilities, please visit www.ssoe.com/global
https://www.ssoe.com/wp-content/uploads/2012/03/150x150_SSOE-the-global-economy.png
150
150
hitch
http://www.ssoe.com/wp-content/uploads/SSOE-1805-Reg-2.svg
hitch
2012-03-14 15:21:39
2018-07-11 17:31:04
The Global Economy: the more things change, the more things change