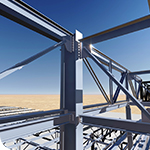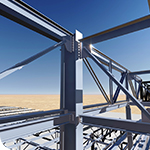 Structural steel is often critical to both the timeline and budget of a project. It is also an area in which SSOE has set itself apart through a well-defined VDC execution strategy. In fact, the modeling to detailing capabilities of VDC Steel, along with some of the piping detailing we are performing, were recently identified by a contracting partner as one of SSOE's main differentiators from our competition. With this perspective, let's take a quick look at what VDC Steel entails.
What is VDC Steel?
VDC Steel integrates steel design, fabrication, erection, procurement, and steel construction management using virtual design technology. It allows SSOE to concurrently produce design and shop drawings. This results in a quicker mill order while allowing more time for coordination of finer design details, tighter bids, better management of project execution, and reduced total construction costs to the owner as well as significantly reducing the overall construction schedule.
Benefits
Exceptional quality, compressed schedule, reduced overall project cost, more accurate estimates. 
A Quick Look at the Four Components of VDC Steel
Design Integration – aid in design efforts and coordination by utilizing fully detailed, fabricator ready models for inter-discipline clash detection.
Full Service Steel Detailing – provide shop drawings, erection drawings, mill order list, bolt list, and CNC files for automated fabrication equipment.
Steel Construction Management – project coordination related to materials, schedule, sequencing, and construction of the structural steel package.
Procurement – SSOE can procure the direct labor (fabricator and erector) and material (raw steel, joist, and deck) for the complete steel package.
What are the Deliverables SSOE Can Provide? (Unique to a VDC Steel Project)
Detailed shop drawings
Erection drawings
Mill order list
Bolt list
CNC files for automated steel fabrication
Steel construction management for complete steel package
Procurement of entire steel package
Experience
Our most recent project is a 27,000 SF warehouse addition with a mezzanine for tank storage and a 5,400 SF process addition representing approximately 430 tons of steel. Some additional projects include…
Food manufacturer capacity increase and warehouse repurposing
Food manufacturer freezer building
Automotive Weld Shop Expansion
Automotive Paint Hospital Retro-Fit
Furnace Deck Expansion
Additional Resources
For more detailed information on VDC Steel take a look at the VDC Steel Brochure… or give one of our experts a call:
[two_nineth]
[/two_nineth]
[two_nineth_last]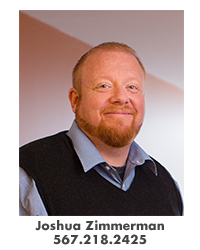 [/two_nineth_last]
https://www.ssoe.com/wp-content/uploads/2015/03/150x150_SSOE_VDC-steel.png
150
150
Betsy Hurner
http://www.ssoe.com/wp-content/uploads/SSOE-1805-Reg-2.svg
Betsy Hurner
2015-03-26 17:49:34
2018-07-11 17:03:28
VDC Steel