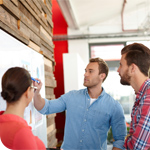 What is an Interactive Planning (IAP) Session?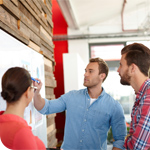 Interactive Planning (IAP) sessions serve as a platform to enhance collaboration between a cross-section of project stakeholders and team members to explore, discuss, and reach solutions about a particular aspect of a project. By bringing together all key members of a project team, we're able to more effectively map out critical milestones, schedule considerations, and necessary tasks to support the achievement of those milestones. The session recognizes and reminds team members that the end in mind is a business objective that must be met, and looks for the best means to meet those objectives. The solutions and approach that emerge when your project is framed in terms of your business goals can be much different than those that focus on generating a set of drawings or simply putting up a building.
As part of an integrated project delivery, SSOE looks to kick off every project with an IAP made up of team members from all parties responsible for executing the project, including you, the owner, architect, engineer, and key contractors to foster enhanced communication, collaboration, and understanding of project execution. Having everyone's input early on results in a better definition of scope, improved design, a more constructible project, and an improved ability to identify and avoid risk. SSOE has led a number of IAP sessions and has realized the value of having a skilled facilitator—someone who will challenge traditional ways of thinking, be open to creative approaches, and constantly bring the team back to the ultimate objective. This individual should have context of the project at hand but not have primary responsibility in order to make sure all project team members are able to participate without being encumbered with facilitating the process.
The agenda for a typical IAP session walks a team through:
Review of scope, milestones, and any non-negotiable items.
Review of roles and responsibilities.
Review of goals and objectives.
Start with the end in mind; work backwards to the present in a macro format.
Set the table for detailed micro-level discussions that will cover the next 4-8 weeks.
In addition to project kick-off meetings, these sessions are also a very useful forum to encourage creative thinking to develop solutions for your project at the proposal stage that results in a more well thought out overall project approach. Ideally these IAPs continue throughout the project to replace the typical cycle of "work, review, and rework." Efforts shift from milestone reviews to providing input as design is taking place—eliminating much of the rework a traditional approach requires—resulting in the most efficient and constructible design possible that fully incorporates owner needs.
Recently, SSOE took the lead on organizing an IAP session for a large-scale manufacturing plant addition. The goal of the session was to identify project requirements, determine design direction, and take advantage of lessons learned and constructability reviews on previous work at the existing plant. The initial kick-off meeting was so successful that the team decided to restructure the traditional review process to continue the momentum of communication and feedback as the project progressed.
https://www.ssoe.com/wp-content/uploads/2015/10/150x150_SSOE_what-is-an-interactive-planning-session.png
150
150
Betsy Hurner
http://www.ssoe.com/wp-content/uploads/SSOE-1805-Reg-2.svg
Betsy Hurner
2015-10-19 15:10:01
2018-07-11 17:01:01
What is an Interactive Planning (IAP) Session?