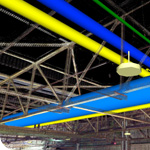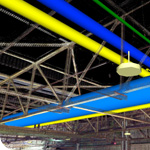 3D laser scanning is the fastest, most efficient method to capture existing conditions of many facilities or sites. Replacing the time consuming and less accurate method of manually recorded field measurements, lasers scan an existing facility or site, creating a point cloud that acts as a highly accurate as-built drawing. Laser scanning is extremely useful when there are no existing drawings or the information on the drawings is outdated for a project.
In addition to its accuracy, the main benefit is the point cloud can be referenced into a 3D model to avoid collisions with the proposed design and costly rework in the field—ultimately creating an incredibly realistic and detailed 3D model of an existing facility. While this process does require human decisions, this has the potential to help an owner digitize their facilities into other downstream uses like planning, constructability, asset management, or energy modeling. A topographical model of a site can also enhance the process of planning earthwork, construction stockpile, and staging.
How do I know if laser scanning is right for my project?
As with any tool or project it's imperative to understand deliverables and site conditions as well as how the information will be used after it's captured in order to achieve the end goal for the project at hand. SSOE has partnered with a number of laser scanning vendors to complete projects for clients around the world. Through these partnerships, SSOE has the ability to perform three types of scans – short range, long range, and aerial / drone – and for every project, we evaluate the appropriate method to obtain the most accurate and reliable capture. We've developed a quick overview (click here to view) that outlines the differences between the three types of laser scans and provides a chart to help assess what is right for your project, successful project characteristics, and considerations for 3D laser scanning.
In the last 12 months, SSOE has completed more than 50 laser scanning projects, spanning 19 U.S. states and 2 countries.
https://www.ssoe.com/wp-content/uploads/2015/12/150x150_SSOE_what-is-laser-scanning.png
150
150
Betsy Hurner
http://www.ssoe.com/wp-content/uploads/SSOE-1805-Reg-2.svg
Betsy Hurner
2015-12-02 13:18:50
2018-07-11 17:00:39
What is Laser Scanning?