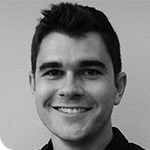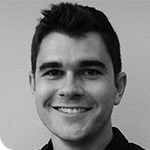 AMSTERDAM, Netherlands, November 5, 2019 – SSOE Group (www.ssoe.com), a global project delivery firm for architecture, engineering, and construction management, announced today that Tony Sabat, BIM / CAD Technical Specialist, has been selected to present at GEOBIM 2019. This annual gathering of leading executives from the A/E/C world will be held November 11 – 12, 2019 at the Hotel Novotel Amsterdam City in the Netherlands.
Tony Sabat will present two sessions at GEOBIM 2019. The first will take place on Tuesday, November 12th, 2019 from 9:00am – 10:00am titled "Improving GEOBIM Workflows via Drones". The built environment covers a massive footprint during all the stages from concept to commissioning. Our processes create immense amounts of data points that can be difficult to capture and essentially refine and analyze. The mobility of drones and scale they can cover makes them an exceptional contributor to capturing these data points and leveraging them into current and future projects. In this session we will dive into the many workflows drones can bring to the table as well as how they can improve existing workflows.
Tony's second session will take place on Tuesday, November 12th, 2019 from 11:30am – 1:00pm titled "Smart Connectivity in Digital Cities". With the convergence of many technologies on our horizon, we can begin to strategize how these innovations and disruptions can work together to create smarter cities that adapt and predict change as it happens, potentially before. The massive influence of autonomous vehicles begins to be the framework upon which smart cities can begin to develop. The data demands of our world will not slow or even maintain. As adoption of autonomous vehicles grows, so too will our data generation. This demand coupled with advances in communication technology will allow the analysis of such and take the idea of a digital city closer towards a large scale digital twin. This session will explore the intersection of these technologies and unravel how they can disrupt cities as we know them.
One of several certified drone pilots on staff at SSOE, Tony Sabat is a consultant, adviser, and writer in the AEC / Built World industries focusing on innovative and disruptive technologies and processes. He specializes in workflow, technology integration, and implementation. Tony has experience in the industry working from many different vantage points from the surveyor / engineer to general contractor and now to the consulting side. Tony focuses primarily on the intersection of reality capture and digital twins, drones or UAVs, virtual design and construction, BIM, integrated project delivery, and even blockchain technology. He has recently been published in several publications including LiDAR News for his blog articles "Artificial Intelligence Assists with Reality Capture Workflows" and "Minimum Effective dose of Accuracy", as well as SPAR 3D for his article "How Accurate is the Marketing of Accuracy in the Reality Capture World".
GEOBIM is an exclusive platform in Europe wherein dialogues are initiated across the geospatial and the Building Information Modelling (BIM) community for utilizing integrated solutions, i.e. spatial technologies and BIM – duly augmented by digital technologies (IoT, Cloud, AR/VR) etc., to intelligently model construction projects. GEOBIM aims to highlight the role of geospatial information and technology in BIM processes, combining engineering processes with the design processes to increase efficiencies and reduce costs.
This year, GEOBIM shall focus on facilitating discussions between the users, policymakers and the technology providers with a problem-solving approach. The sessions at the summit will address the current priorities and opportunities available with the AEC industry to enhance the delivery of future projects. Also, the sessions will delve into the influence of new trends such as the internet of things (IoT), augmented reality (AR) and virtual reality (VR), drones, robotics, cloud, 3D simulations, 3D printing, etc.
For more information on this conference, click here.
https://www.ssoe.com/wp-content/uploads/2018/08/Tony_Sabat_150x150.png
150
150
Jenni Roder
/wp-content/uploads/2018/05/logo_ssoe.png
Jenni Roder
2019-11-05 16:59:00
2019-11-06 14:34:16
Tony Sabat, One of SSOE's Top BIM Experts, to Present at GEOBIM 2019 Europe