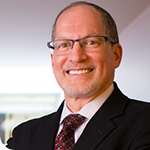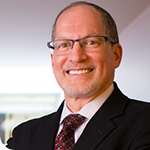 NASHVILLE, Tennessee, September 19, 2016 – SSOE Group (www.ssoe.com), a global project delivery firm for architecture, engineering, and construction management, is proud to announce that Vince DiPofi, PE, Executive Vice President / Chief Strategy Officer and Mark LaBell, BIM/CAD Technical Leader, have been selected to present at PSMJ's THRIVE 2016 – The A / E / C Industry Summit. The event will be held October 12-14, 2016 at Loews Vanderbilt Hotel located in Nashville's exclusive Midtown. THRIVE 2016 provides attendees with a chance to learn, network, and to get an eye-opening perspective on what the world's most successful  A / E / C firms are doing right now to thrive.
DiPofi and LaBell will present "Optimize the Collective Knowledge of Your Employee Demographics". This session will explore how SSOE translated a model frequently used in Silicon Valley, the Hackathon, to gather ideas from Gen-Xers and Millennials and drive them through to implementation for the benefit of the firm.
The best innovation is driven by those who regularly encounter unsolved problems or the need for a better way of doing things. Today, in mid- to large-size firms, it's frequently Gen-Xers and Millennials who are in the position to encounter these frontline challenges, but they are often not in a position to drive change—or even fully develop the solution on their own. The Hackathon approach provides them the resources to more fully develop their ideas, and then gives them a direct line to upper management to make a business case for implementation. The resulting benefit is two-fold: engaging Gen-Xers and Millennials with the opportunity to play a part in an organization's strategy while introducing a new source of ideas for innovation to revitalize goals of executive management. DiPofi and LaBell will highlight the success of this model, using examples from the firm's own "Hackathon".
DiPofi and LaBell are scheduled to present on Thursday, October 13, 2016 at 10:00 am. For more information on this event, visit: http://go.psmj.com/thrive-2016.
Vince DiPofi Jr., P.E. is the Executive Vice President and Chief Strategy Officer (CSO) of SSOE. As CSO, Vince is a key advisor to the CEO and facilitates strategy in conjunction with other business leaders. His responsibilities include oversight of SSOE's process operational units, business development, construction management, and all of SSOE's international operations, including Mexico and China. Vince has over 30 years of professional experience. He started at SSOE in 2000 as the business leader for SSOE's food group. Under his leadership, the group achieved a #2 ENR U.S. ranking and a #7 ENR global ranking. Vince became a partner in the firm in 2006 and has since been instrumental in developing engineering alliance relationships with several of SSOE's Top 10 clients.
Mark LaBell Jr. is a Senior Virtual Design & Construction (VDC) Technical Leader and Senior Associate at SSOE. He has a passion and unparalleled dedication for the practice of VDC methods in the A / E / C industry and is the driving force behind the implementation of SSOE's annual Hackathon. He has served as a user and customization expert in 3D BIM / CAD software for over 15 years and provides support and training for users to educate them on how to maintain a sound and practical user environment.
https://www.ssoe.com/wp-content/uploads/2016/09/150x150_SSOE_dipofi-and-labell-to-present-at-PSMJs-THRIVE-2016.png
150
150
hitch
/wp-content/uploads/2018/05/logo_ssoe.png
hitch
2016-09-19 15:46:47
2018-07-11 14:41:07
DiPofi and LaBell of SSOE to Present at PSMJ's THRIVE 2016 – THE A / E / C Industry Summit