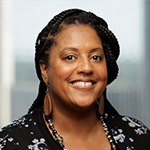 Harrison, SSOE's Director of DEI, to Present at the Toledo HR Associations' Conference 2022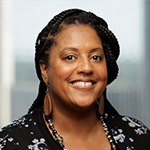 TOLEDO, Ohio, October 28, 2022 – SSOE Group (www.ssoe.com), an internationally ranked architecture and engineering firm, announced today that Candice Harrison, Director of Diversity, Equity, and Inclusion (DEI), will speak at the Toledo HR Associations' Conference (THRAC) 2022 Annual Conference taking place on November 10, 2022, at the Hilton Garden Inn at Levis Commons in Perrysburg, Ohio.
Candice will present "Level Up: Lessons Learned in Creating an Inclusive Workplace" from 10:30 a.m. – 11:30 a.m. EST. This session is geared toward individuals seeking to implement a DEI strategy within their organization but aren't sure where to start. During the session, Candice will share her experiences and lessons learned in creating a diverse, inclusive, and equitable workplace where employees feel a sense of belonging. Attendees will learn the importance of listening before beginning work around DEI, tips for strategy development and goal setting, and how to objectively serve as a DEI champion within their organizations.
Candice joined SSOE in 2022 as Director of DEI to support the firm's vital efforts to help close the gap in the disproportionate number of underrepresented groups in the AEC industry. She leads the implementation of the firm's DEI vision, develops compelling and inclusive messaging, and creates aspirational goals, plans for change, and an in-depth assessment of SSOE's DEI initiatives. She previously held the position of External Communications Manager at Toledo Public Schools. Prior to that, Candice served as Director of Communications at the Toledo Museum of Art and Senior Communications Manager for the Toledo Zoo. She built valuable relationships at both a local and national level as Director of the Schools as Hubs initiative at Scott High School, a strategy for organizing the resources of the community around student success in partnership with Lutheran Social Services and the United Way of Greater Toledo.
Candice holds a Master of Arts in Communication and Leadership from Spring Arbor University and a Bachelor of Art in Communication and Public Relations from the University of Toledo. She has a strong community presence as President of the Press Club of Toledo Board, Board Member of the Rotary Club of Toledo, Board Director of The Arts Commission, and former Co-Chair of the African American Leadership Council of United Way. In 2014, she was the recipient of Leadership Toledo's 20 under 40 Leadership Award and the Top Community Voices Award.
THRAC is an annual event co-produced by the Employers' Association and NOHRA. This year's conference is designed to equip attendees with ready-to-use tools, strategies, and information to help maintain their connections with peers, leaders, and employees.
For more information on the THRAC 2022 Annual Conference, click here.
https://www.ssoe.com/wp-content/uploads/ssoe_ut-multi-year-gift_150x150-2.png
150
150
Jenni Roder
http://www.ssoe.com/wp-content/uploads/SSOE-1805-Reg-2.svg
Jenni Roder
2022-10-28 13:53:25
2022-10-28 16:09:30
Harrison, SSOE's Director of DEI, to Present at the Toledo HR Associations' Conference 2022