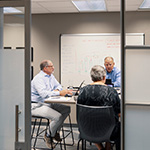 SSOE Announces Expanded Stock Ownership Program, Increasing Ownership Opportunities for Employees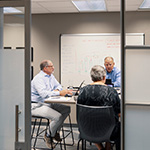 TOLEDO, Ohio, December 19, 2022 – SSOE Group (www.ssoe.com), an internationally ranked architecture and engineering firm, is excited to announce the addition of nearly 140 new shareholders due to the firm's recently expanded stock ownership program. Currently, SSOE has approximately 1,300 employees, of which over 300 are now shareholders. As a privately-held company, this expanded program benefits shareholders and the company by motivating new levels of leadership to make decisions that are in the firm's best interest.
James Jaros, CPA, JD, Chief Financial / Legal Officer and Senior Vice President of SSOE, provided additional information behind the decision to expand ownership opportunities, "Last year, SSOE underwent a compensation and ownership strategy assessment with an outside consultant. Findings from this study noted an opportunity to expand our stock ownership program to include offering stock sales at a lower career progression level. Previously, stock sales were only offered to Senior Associates and above." Jaros continued, "As part of the SSOE core team involved in the study, I was excited to help implement the expansion of the program to Associate-level employees, giving even more employees a chance at ownership and the opportunity to capitalize upon the value created within the firm". Current shareholders were asked to approve amending the code of regulations and creating a new stock redemption agreement to allow the expansion. With an overwhelming vote to approve the amendment, earlier this month, SSOE added 36 Senior Associates and 101 Associates as owners of the firm.
SSOE's CEO Vince DiPofi, PE stated, "In 2006, SSOE's stock ownership was opened to Senior Associates, prior to that point, ownership was limited to Principals of the firm. Now, by extending ownership opportunities once again to this new pool of candidates, we are providing additional career growth opportunities, succession planning, and wealth creation for employees, positioning SSOE to thrive well into the future. As CEO, it was fantastic to see the strong support we received from our current shareholders on this very important evolution in SSOE's stock program. These shareholders are also my clients, and it is my responsibility to make sure that they and the firm continue to be successful now and in the future."
When beginning a career with SSOE, employees may select a path that could provide the opportunity to become an owner of the firm. This ownership opportunity supports SSOE's business strategy and human resource objective to attract and retain talented professionals and leaders of the company. This year, nearly 45% of the Associates eligible to purchase stock chose to do so, demonstrating employees' commitment to SSOE and its future.
Increasing ownership opportunities for a wider range of employees at SSOE is yet another benefit that makes SSOE a "Great Workplace". SSOE has been honored five times by the independent analysts at Great Place to Work® with the "Great Workplace" certification based on exemplary ratings provided by SSOE's U.S. employees in an anonymous survey. This award recognizes SSOE's commitment to their employees as well as their extensive list of benefits programs and employee perks which include a hybrid work model that provides flexibility to staff in how and where they work, buy / sell paid time off program, tuition reimbursement, and a 401(k) match, and a robust parental leave and bereavement policies for U.S. staff. Learn more about a career with SSOE and view open positions at www.ssoe.com/careers.
https://www.ssoe.com/wp-content/uploads/vince_cathy_mike_150x150.jpg
150
150
Jenni Roder
http://www.ssoe.com/wp-content/uploads/SSOE-1805-Reg-2.svg
Jenni Roder
2022-12-19 13:24:04
2022-12-19 13:39:45
SSOE Announces Expanded Stock Ownership Program, Increasing Ownership Opportunities for Employees