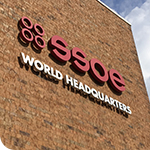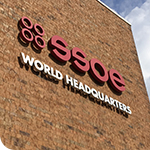 TOLEDO, Ohio, May 28, 2021 — SSOE Group (www.ssoe.com), a global project delivery firm for architecture, engineering, and construction management, recently announced its board of directors has approved a long-term hybrid plan that will incorporate lessons learned over the course of the pandemic and provide permanent flexibility for employees to work from home. Announced internally at the firm's quarterly town hall in May, employees will be allowed to continue to work from home full time through September to accommodate a transition period before the permanent hybrid model goes into effect. SSOE also announced significant enhancements to its parental leave policy.

"We knew a one-size-fits-all approach wouldn't work. We needed a model that would accommodate our diverse employee population while continuing to foster our collaborative and inclusive culture," shared Adrienne Taylor, PE, Chemical Process Department Manager who served on the Return-to-Office Committee made up of a cross-section of next-generation SSOE leaders. "A lot of factors were considered, such as employee responses to our quarterly survey, client satisfaction surveys, conversations with clients and industry partners, market research, and more. We were focused on optimizing what would be best for our employees, clients, and the company in the long-term."
SSOE determined early on that allowing employees to work remotely was not a barrier to project or financial success. Despite allowing employees to work from home throughout the pandemic, SSOE is experiencing its most successful financial span in the firm's history. Mike Newman, PMP, Division Manager, Advanced Technology, who also served on the Return-to-Office Committee, shared, "Employees have proven they can responsibly deliver projects in a remote environment and still provide the level of quality our clients expect from us. That said, we also heard from a number of our employees that they were missing the mentoring opportunities and collaboration that some time spent together in the office allowed. Ultimately, we decided a hybrid model best serves our employees and clients. We hope this will also be an attractive benefit for recruiting new talent looking to work in a progressive, trusting environment."
While there will be exceptions, the firm's board of directors has approved a baseline of two to three days per week in the office, which will allow employees to work remotely on the other days if they choose. Vince DiPofi, PE, President and CEO, shared, "SSOE's employees have been incredibly appreciative of the flexibility provided to them over the course of the past year. They have shown a willingness to continue to support our clients by traveling to project sites when needed and their hard work and dedication is the reason we've managed to not just survive but thrive during the most uncertain of times. SSOE's Board of Directors and Executive Management Team are excited to offer this benefit to them."
In addition to offering this new work-from-home benefit, SSOE has also expanded both its parental and bereavement leave policies for U.S. staff as another way to help employees strike a healthy balance between home and work lives. Effective July 1st, birth mothers will receive 12 weeks of 100% paid parental leave and other eligible parents will receive two weeks of 100% paid parental leave. The company has also extended paid bereavement leave from three days to five for employees who lose an immediate family member.
https://www.ssoe.com/wp-content/uploads/2017/11/150x150_SSOE_appointment-of-four-new-principals.png
150
150
Katie Junga
/wp-content/uploads/2018/05/logo_ssoe.png
Katie Junga
2021-05-28 09:12:29
2021-05-28 09:41:45
SSOE Group Announces a Hybrid Return-To-Office Plan with Both Remote and In-Office Options and Enhanced Parental Leave Policies