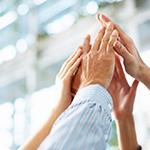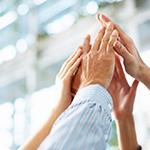 TOLEDO, Ohio, April 24, 2015 – SSOE Group (www.ssoe.com), a global engineering, procurement, and construction management (EPCM) firm, announced today that 2 employees earned professional registrations and 5 employees earned professional certifications during the second quarter of SSOE's 2015 planning year. Attainment of professional licensures is strongly encouraged at SSOE. In fact, the company covers the expense of preparation classes and exam fees as well as providing paid time off to take the exam. As an added incentive, once a staff member has passed an exam, they are awarded a recognition bonus.
Registrations
Justin Butts and Lisa Hitchingham recently received their professional engineering licenses. Both individuals successfully completed the Principles and Practice of Engineering (PE) exam that measures a candidate's academic and practical knowledge of technical engineering. Candidates are eligible to take the exam after meeting statutory requirements including a minimum of four years of acceptable work experience.
Justin Butts, PE graduated from Oakland University with a Bachelor of Science in Electrical Engineering. Butts works in SSOE's Troy, Michigan office and has more than 7 years of experience designing electrical systems for a wide array of healthcare, commercial, and higher education projects ranging from small renovations to complex additions and new facilities.
Lisa Hitchingham, PE graduated from the University of Michigan with a Bachelor of Science in Chemical Engineering. Hitchingham works in SSOE's Toledo, Ohio office and specializes in industrial processes and energy generation. She has more than 6 years of experience consisting of feasibility studies for power generation systems and industrial waste diversion, modeling systems for material flow / mass balances, power and heat generation, food waste composting, and industrial system design including P&ID and specification development.
Certifications
Raul Estrada, Chad Langbehn, and Brandon Schneider earned their certifications as Project Management Professionals (PMP). This certification, awarded by the Project Management Institute (PMI), indicates that the individual possesses the knowledge and skill necessary to lead and direct project teams, and deliver project results within the constraints of schedule, budget, and resources. Additionally, Kimberly Robertson earned her Society for Human Resource Management (SHRM) Senior Certified Professional (SCP) certification, while Dominic Torres earned his VMware Professional 5 certification (VCP-DCV).
Raul Estrada, Jr., PMP graduated from New Mexico State University with a Bachelor of Science in Mechanical Engineering and obtained a certificate in Project Management from Portland State University. Estrada has over 21 years of experience in mechanical engineering, primarily in the semiconductor sector where he has focused his experience in tool installation. He currently works in SSOE's Portland, Oregon office as a Senior Project Manager within SSOE's Tool Install group.
Chad Langbehn, PMP graduated from Oregon State University where he earned a Bachelor of Science in Chemical Engineering, Microelectronics and Material Science. Langbehn currently serves the Portland, Oregon office as a process designer, focusing on improving quality and cost savings. He has over 5 years of experience, with a knowledge base that includes instrumentation, materials science, polymer engineering, and energy.
Brandon Schneider, PE, PMP, LEED AP graduated from The University of Portland with a Bachelor of Science in Mechanical Engineering. Schneider has more than 7 years of experience, consistently managing multiple projects of varying sizes concurrently. Schneider works in SSOE's Portland, Oregon office and is responsible for developing the project Scope of Work, managing client meetings, managing the design and change control processes, estimating work and construction costs, overseeing subcontractors, and providing regular project status reporting to both internal and external customers.
Kimberly Robertson, SPHR, SHRM-SCP graduated from The University of Toledo with a Master in Business Administration following a Bachelor of Art in Business Administration, Human Resources. Robertson has more than 15 years of industry experience and currently works in SSOE's Toledo, Ohio office serving as Manager of Human Resources.
Dominic Torres, VCP-DCV, MCTS, MCSA graduated from Baker College with a Bachelor of Science in Computer Information Systems. He has over 15 years of experience, and currently serves as a Systems Administrator 2 in SSOE's Troy, Michigan office. Torres specializes in the deployment and management of virtualized data centers, including both server and desktop environments.
https://www.ssoe.com/wp-content/uploads/2015/05/150x150_SSOE_employee-registrations-and-certifications-for-second-quarter-of-planning-year-2015.png
150
150
hitch
/wp-content/uploads/2018/05/logo_ssoe.png
hitch
2015-05-03 14:18:22
2018-07-11 15:24:21
SSOE Group Announces Employee Registrations and Certifications for Second Quarter of Planning Year 2015