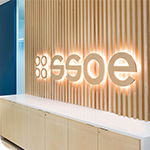 SSOE Group Announces Expansion of its Board of Directors and Three New Principals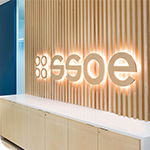 TOLEDO, Ohio, December 6, 2021 – SSOE Group (www.ssoe.com), a global project delivery firm for architecture, engineering, and construction management, announced today an expansion of the firm's Board of Directors and appointment of three new principal owners.
SSOE's Board of Directors is responsible for setting the overall direction of the firm and protecting shareholder interests. SSOE President and Chair of the Board Catherine Myers, PE, explained, "We felt it was timely to evaluate our board structure for opportunities to enhance on the heels of an exceptional year and our move toward a more horizontal organizational structure. Our current make up and size has worked for many years to produce a high-quality and robust board to oversee the company—since then, our company has evolved considerably with year over year revenue growth, acquisitions, geographic expansion, and anticipated future growth."
Myers continued on to explain, "Significant geographic growth outside of our Midwestern roots has resulted in principal leadership distributed across the country. Our shareholders overwhelmingly approved a restructuring of the board that will increase the number of directors from nine to 12, made up of eight internal and four outside directors. The final director elections validated this restructuring, with inside directors representing our West, Midwest, and Southeast regions."
CEO of SSOE Vince DiPofi, PE looks forward to working in the new structure stating, "The concept of having outside directors in a privately-held company is a differentiator. It helps SSOE, and the CEO, get outside expertise that otherwise would not be available within the company. With the addition of a fourth outside director, it not only allows us to further diversify our board, but also bring in key expertise into the company, in a dynamic business environment, as we expand into Texas and respond to the technology-driven market and industry."
The expanded structure adds a permanent seat for SSOE's president to the existing seat already held for the CEO. It also imposes a three-year term limit for a member to act as the chair of the board.
With this expansion, the following individuals have been elected to the Board of Directors:
Michael Murphy (Returning) – Executive Vice President (Toledo, Ohio)
Ron Stang, AIA, LEED AP (Returning) – Senior Vice President (Atlanta, Georgia)
Robby Aull, AIA, ACHA, LEED AP – Senior Vice President (Columbia, South Carolina)
Brett Susany – Senior Vice President (Portland, Oregon)
Board Members Continuing in Office:
Vince DiPofi, PE – CEO
Catherine Myers, PE – President, Chair of the Board
Matthew Oberts, PE, LEED AP – Executive Vice President
Jim Lewis – Executive Vice President
Lori Gillett, Outside Director
Doug Goare, Outside Director
John Pemberton, Outside Director
In addition to the election of new board members, SSOE also announced the addition of three new principals. DiPofi offered his congratulations stating, "I'm extremely pleased to welcome three individuals as principal owners of SSOE. Brandon Darroch, Mike Newman, and David Semproch have all demonstrated exceptional leadership within their respective areas of our business and made tremendous contributions to our overall success."
Brandon Darroch, PMP
Brandon Darroch serves as Battery Market Leader and Division Manager of SSOE's Automotive and Manufacturing Facilities Southeast Operations. He joined SSOE in 2016, has 15 years of experience in the architecture, engineering, and construction industry, and was a 2017 recipient of the SSOE Leadership Award for Superior Account Management. Prior to joining SSOE, Darroch served as an engineering officer in the U.S. Army. He is a former Airborne Ranger, Sapper, and Company Commander, and served multiple combat tours in Iraq and Afghanistan. Darroch earned his Master of Science in Engineering Management from Missouri University of Science and Technology and a Bachelor of Science in Civil Engineering from the University of Illinois at Urbana-Champaign. He is a certified Project Management Professional and leads SSOE's Nashville, Tennessee office.
Mike Newman, PMP
Mike Newman serves as the High-Tech Division Manager of SSOE's Advanced Technology (AT) Operation. He joined SSOE in 2019 with over 20 years of working experience supporting the semiconductor and technology industry. While being a strong proponent of eliminating waste, the Theory of Constraints (ToC), and the Toyota Production System (TPS), Newman is actively working on simplifying the project delivery model to improve value to the client. In addition to his work on the operations side, Newman has successfully led the effort to significantly add and diversify the AT client base. Newman earned a Bachelor of Science in Industrial and Mechanical Engineering from Oregon State University. He is a certified Project Management Professional and works out of SSOE's Portland, Oregon location.
David Semproch, AIA, NCARB
David Semproch serves as the Architectural Department Manager for SSOE's Automotive and Manufacturing Facilities Northern Operations. He joined SSOE in 1998 and is an Agent for Change in the practice of architecture, and the broader scope of delivering design and construction projects. As a department manager of more than thirty architects and design professionals, Semproch challenges the norms of architecture by guiding the Industrial Architecture studio toward delivering value to clients and end-users, and not simply traditional instruments of service. He encourages out-of-the-box thinking toward the design and delivery of projects—emphasizing the art of architecture, the science of engineering, and appreciating the craft of construction. Semproch earned a Bachelor of Science in Architecture from The Ohio State University and a Bachelor of Architecture from Kent State University.
SSOE is also proud to welcome 24 new senior associate shareholders this year, bringing the total number of shareholders to 180.
To view a full list of SSOE Leadership, click here.
https://www.ssoe.com/wp-content/uploads/ssoe-announces-expansion-of-board-of-directors_150x150.png
150
150
Jenni Roder
https://www.ssoe.com/wp-content/uploads/SSOE-1805-Reg-2.svg
Jenni Roder
2021-12-06 13:34:20
2021-12-06 14:19:50
SSOE Group Announces Expansion of its Board of Directors and Three New Principals