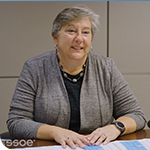 SSOE Group Announces New Horizontal Organizational Structure, Names First Woman President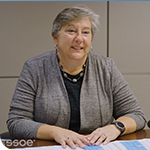 New Structure Poised for Growth, Flexibility, and Career Development
TOLEDO, Ohio, October 13, 2021 – SSOE Group (www.ssoe.com), a global project delivery firm for architecture, engineering, and construction management, announced today their new organizational structure and a number of promotions to kick off the firm's 2022 fiscal year. This new organizational structure will position SSOE for growth, enhance collaboration across business units, and diversify leadership. Of note is the appointment of SSOE's first female president.
Poised for significant growth, SSOE has implemented an innovative horizontal organizational structure that bases upward mobility of leadership on the performance of the operations they manage rather than a rigid hierarchical structure. Vince DiPofi, PE, Chief Executive Officer (CEO), explained, "The driver for our new structure is the flexibility it provides to scale for growth, without changing our core market-based structure. It also provides additional leadership opportunities for our key performers as they demonstrate sustained business outcomes. It's significantly expanded and diversified our leadership team and puts the next generation of leadership in place across the company."
An exciting outcome of the new structure and the subsequent promotions is that Catherine Myers, PE, was named President. In this position, she will oversee SSOE's engineering and construction management operations. A milestone for the firm, Myers—who joined SSOE in 2017—is the first woman to serve in this role. She was also the firm's first woman to Chair its Board of Directors, a position in which she will continue to serve. Located in SSOE's Portland, Oregon office, Catherine will also be the first President of the firm located outside of its Toledo, Ohio headquarters. She shared her thoughts on the reorganization, stating, "Our new structure helps break down barriers across the organization—moving away from siloed business units and bringing additional diversified perspectives into our leadership structure. This will benefit our clients by encouraging stronger collaboration and sharing of resources across the firm. This proves especially important as we've seen a convergence of many of our traditional markets that require technical expertise across the organization."
In her role as President, Myers will lead execution of SSOE's business operational strategies, working closely with DiPofi who will continue to serve as CEO. Expressing his confidence in Myers, DiPofi noted, "Cathy's demonstrated success in leading SSOE's largest business unit, and then acting as our co-Chief Operating Officer during our most successful period of growth ever, gives me full confidence that she will enhance our operational focus. Her client-centered approach will be critical to achieving our newly announced mission of delivering unparalleled client value that advances the AEC industry."
Michael Murphy, who was formerly co-Chief Operating Officer with Myers, will take the newly created role of Executive Vice President for Strategic Plan Integration. With the company's new mission and intense focus on technology, Mike's deep knowledge of SSOE's business and operations will accelerate our ability to implement these key initiatives. Murphy stated, "As an organization we've set an aggressive goal for ourselves to execute projects 50% more efficiently. A huge component of realizing that goal comes from the successful implementation of strategic initiatives that advance our digital transformation—I'm excited for the opportunity to increase the value we deliver to clients by leading this charge!"
Other promotions resulting from the new structure include the addition of three Executive Vice Presidents. Jeremy Woodgate, PE, SE, will serve as the Executive Vice President for SSOE's Advanced Technology markets; Matthew Oberts, PE, LEED AP, will serve as the Executive Vice President of Facilities; and Jim Lewis will serve as Executive Vice President of SSOE's Process operations.
Continuing the firm's strategy of elevating its architecturally driven operations, Ron Stang, AIA, LEED AP, will maintain his leadership of these resources, but will now report directly to CEO Vince DiPofi. Ron, who came to SSOE in 2020 through their acquisition of Stevens & Wilkinson had this to say, "When Stevens & Wilkinson joined SSOE, it was with the goal of enhancing SSOE's ability to provide high-end architectural and interior design services. Our multidisciplinary teams are focused on creating spaces that inspire, energize, and reflect the culture and brand of our clients. To ensure we have the autonomy and flexibility required to fulfill that vision and operate as an architecturally driven practice, SSOE has opted to set these operations apart from our more engineering-driven operations."
Additional new positions include the following:
Brett Susany will assume the newly formed role of Senior Vice President of Complex Project Execution. As emerging markets have crossed over into existing markets, the need to build a team uniquely suited to execute those large, multi-SBU projects has arisen. Brett's experience from overseeing SSOE's largest program of projects will bring the necessary leadership.
Greg Brogley, PE, PMP, has been promoted to Senior Vice President and Strategic Business Unit (SBU) Manager of SSOE's Automotive and Manufacturing Facilities (AMF) Northern Operations.
Raul Estrada, Jr., PMP, has been promoted to Senior Vice President and SBU Manager of SSOE's Advanced Technology (AT) – Tool Install group.
Greg Rossler, Vice President, will oversee implementation of SSOE's new Enterprise Resource Platform (ERP).
Jens Ebert, PE, PMP, Division Manager of the Food and Consumer Products group has been promoted to Vice President.
Adrienne Taylor, PE, has been promoted to Division Manager of SSOE's Chemical Process group.
Carey Russell, PE, has been promoted to Division Manager within the Basebuild division of SSOE's Advanced Technology group. She joins Traci Pashley, PE, who came to SSOE in May of 2021 as a Division Manager within the Advanced Technology SBU.
To view full bios of these individuals and a full list of SSOE Leadership, click here.
https://www.ssoe.com/wp-content/uploads/cathy_myers_150x150.png
150
150
Jenni Roder
/wp-content/uploads/2018/05/logo_ssoe.png
Jenni Roder
2021-10-13 15:57:39
2021-10-13 16:03:57
SSOE Group Announces New Horizontal Organizational Structure, Names First Woman President