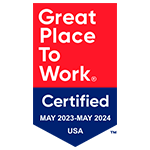 SSOE Group Celebrates 150th New Hire in 2023 Amid Being Named a Great Place To Work®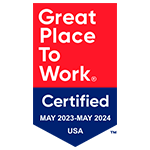 TOLEDO, Ohio, May 30, 2023 – SSOE Group (www.ssoe.com), an internationally ranked architecture and engineering firm, is pleased to announce its made its 150th hire in 2023 on the heels of being named a Great Place To Work for the sixth time. As the firm outpaces its 2022 performance in both revenue and market share, SSOE views the recruitment and retention of top talent as a strategic focus. The firm continues to prove its investment in its employees, delivering on SSOE's vision of "designing and building the future for our clients, colleagues, and communities." This certification is the most distinctive employer-of-choice recognition that companies aspire to achieve, and the only recognition based entirely on how employees feel about their workplace.
Up from 89% in 2022, this year, 93% of employees rated SSOE as a great place to work—compared to a benchmark of 57% for the average U.S. company. Additionally, "people" was cited as the number one response to what makes SSOE a great workplace.
This year's survey results are truly reflective of the value SSOE places on its people. According to the survey:
95% of employees cited they are proud to tell others they work at SSOE.
95% of employees cited that the company's management is honest and ethical in its business practices.
94% of employees say the firm's clients would rate the service they deliver as "excellent."
94% of employees cited management trusts people to do a good job without watching over their shoulders.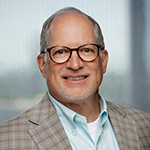 In response to the award, CEO Vince DiPofi, PE, commented, "We're very proud of attaining the Great Place To Work certification for the sixth time; however, what is most important is the 'why' behind the recognition. At SSOE, we know our employees are what makes us successful. Every day, we strive to provide a supportive and inclusive environment that encourages a healthy work-life balance while ensuring each employee feels connected to the greater company and empowered to perform their work. I commend our employees for contributing to this culture and our management for creating an environment where our people can be themselves and flourish."
Making Benefits Work for Employees
SSOE offers its U.S.-based employees an extensive list of benefits, programs, and employee perks. These include a hybrid work model that provides flexibility to staff in how and where they work, buy / sell paid time off program, tuition reimbursement, and 401(k) match. Additionally, the firm offers noteworthy parental leave and bereavement policies. Other work perks include a peer-to-peer employee recognition program, a one-day "SSOE Experience" class that introduces new employees to the organization, employee appreciation clubs, volunteerism programs, and more.
"Great Place To Work certification is a highly coveted achievement that requires consistent and intentional dedication to the overall employee experience," says Sarah Lewis-Kulin, the Vice President of Global Recognition at Great Place to Work. Lewis-Kulin continues, sharing, "By successfully earning this recognition, it is evident that SSOE stands out as one of the top companies to work for."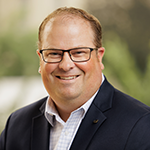 Further reinforcing SSOE's investment in its staff, Brad Rowe, CCWP, Senior Vice President of People and Culture, commented on initiatives the firm has taken over the past year to enhance wealth creation and career growth opportunities for employees, stating, "Over the last year, SSOE has refreshed and updated several programs that have contributed to the elevation of our numbers. We refreshed our total compensation package using today's labor market as a benchmark and continue sharing SSOE's success with our employees through discretionary programs.
Rowe continues, adding, "We also expanded our stock ownership program to include associate-level employees—adding 140 new shareholders this past year. Prior to this, only senior associates and principals were able to purchase stock. At SSOE, we prove our commitment to our employees by directly investing in them and their futures."
For more information on Great Place To Work and a summary of SSOE's survey ratings, click here. The firm is currently hiring at all levels across the U.S. and in Mexico and India. Career opportunities can be viewed at www.ssoe.com/careers.
About Great Place to Work
Great Place To Work is the global authority on workplace culture, bringing 30 years of groundbreaking research and data to help every place become a great place to work for all.
https://www.ssoe.com/wp-content/uploads/ssoe_gptw-2023_150x150-badge.png
150
150
Katie Junga
http://www.ssoe.com/wp-content/uploads/SSOE-1805-Reg-2.svg
Katie Junga
2023-05-30 10:00:01
2023-05-30 16:44:10
SSOE Group Celebrates 150th New Hire in 2023 Amid Being Named a Great Place To Work®