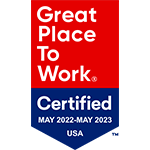 SSOE Group Earns 2022 Great Place to Work Certification™ as Firm Creates an Enhanced Focus on People and Culture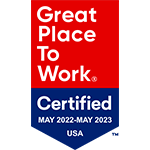 TOLEDO, Ohio, May 12, 2022 – SSOE Group (www.ssoe.com), an internationally ranked architecture and engineering firm, is proud to announce they have been re-certified by Great Place to Work®. SSOE earned this credential based on exemplary ratings provided by their employees in an anonymous survey.
"Great Place to Work Certification™ isn't something that comes easily—it takes ongoing dedication to the employee experience," said Sarah Lewis-Kulin, Vice President of Global Recognition at Great Place to Work. "It's the only official recognition determined by employees' real-time reports of their company culture. Earning this designation means that SSOE is one of the best companies to work for in the country." This year, 89% of employees rated SSOE as a great place to work—compared to a benchmark of 57% for the average U.S. company. Additionally, "people" was cited as the number one response to what makes SSOE a great workplace.
In response to the award, CEO Vince DiPofi, PE, commented, "We're extremely proud of attaining this certification for the fourth time. It's a tangible way for us to communicate our employee-centric approach, validated through survey responses from our employees." He continued, "I am not surprised that the number one reason our employees believe SSOE is a great place to work is their colleagues. We have an amazing team. I commend our employees for contributing to this culture and to all of our managers and leaders for creating an environment where our people can thrive."
With the current labor constraints in the AEC industry and their clients' aggressive capital plans, SSOE has placed a heightened focus on people and culture. A critical part of SSOE's business strategy is building organizational capacity to meet the unprecedented demand for design services. To achieve this focus, they recently created an HR structure that allows this critical corporate function to create to a strategic advantage for both SSOE and their clients—turning recruiting and retention success for SSOE into project success that benefits clients.
In this structure, Brad Rowe, CCWP, will serve in the newly created role of Senior Vice President, People & Culture while Jennifer Wuertz, SPHR, GPHR, SHRM-SCP, will oversee the firm's HR Center of Excellence as Vice President and Director of HR. Rowe seeks to amplify the firm's ability to recruit top talent to SSOE, commenting, "SSOE is an employer of choice, offering exceptional benefits, flexibility, and career development opportunities as this re-certification demonstrates." Speaking to the firm's culture, Rowe emphasized, "We pride ourselves on our collaborative and inclusive company culture and recently took concrete actions to enhance it with the addition of Candice Harrison, Director of Diversity, Equity, and Inclusion (DEI). Candice and I will work closely to integrate diversity and inclusion into our talent recruitment, retention, and management programs."
The firm's HR Center of Excellence, led by Jennifer Wuertz, seeks to differentiate SSOE as a Great Place to Work through a dedicated focus on compensation strategy, benefits offerings, and learning and development opportunities for employees. Wuertz commented, "Our HR Center of Excellence acknowledges the critical role these programs have in attracting and retaining employees and devotes resources focused on optimizing these offerings. We are committed to leading the industry in these areas in order to best serve our employees and deliver top talent to our clients!"
SSOE offers its U.S.-based employees an extensive list of benefits programs and employee perks that contributed to its recognition as a great workplace. These include a hybrid work model that provides flexibility to staff in how and where they work, buy / sell paid time off program, tuition reimbursement, and a 401(k) match. The company recently made significant enhancements to its parental leave and bereavement policies for U.S. staff. In addition, SSOE offers additional work perks such as SSOE swag for new employees, a peer-to-peer employee recognition program, a one-day "SSOE Experience" class that introduces new employees to the organization, employee appreciation clubs and volunteerism programs, as well as career progression.
For more information, a summary of SSOE's survey ratings can be found here or visit www.ssoe.com/careers to view career opportunities.
About Great Place to Work®
Great Place to Work is the global authority on workplace culture. Since 1992, they have surveyed more than 100 million employees worldwide and used those deep insights to define what makes a great workplace: trust. Their employee survey platform empowers leaders with the feedback, real-time reporting and insights they need to make data-driven people decisions. Everything they do is driven by the mission to build a better world by helping every organization become a Great Place to Work For All™.
https://www.ssoe.com/wp-content/uploads/GPTW_badge_150x150.png
150
150
Jenni Roder
/wp-content/uploads/2018/05/logo_ssoe.png
Jenni Roder
2022-05-12 10:55:56
2022-05-12 11:38:43
SSOE Group Earns 2022 Great Place to Work Certification™ as Firm Creates an Enhanced Focus on People and Culture