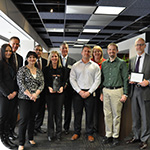 SSOE Group Earns CHC Wellness Culture of Health Award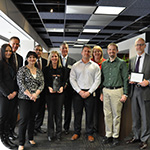 TOLEDO, Ohio, January 29, 2015 – SSOE Group (www.ssoe.com), a global engineering, procurement, and construction management (EPCM) firm, was honored this month with the Culture of Health Award by CHC Wellness, an onsite corporate and community provider of health and wellness programs. This award recognizes leadership in raising the level of engagement among employees by creating a culture of health that encourages, supports, and rewards healthy living. SSOE was selected for setting a standard for wellness within their community, displaying a top-down effort that has positively impacted the lives of their employees, and for dedicating considerable efforts to expand participation in their wellness programs.

While presenting the award, Pat Loridas, Executive Vice President of CHC Wellness stated "We are presenting this award to SSOE based on key metrics achieved through their wellness programs, such as participation, engagement, and executive sponsorship. Over the years, SSOE has seen a continuous increase in participation and engagement, which clearly indicates the firm is doing all the right things to create a culture of wellness within its organization. We've also seen great involvement at the executive level from SSOE to represent and model the importance of wellness. Congratulations to SSOE on this great achievement!"
A key driver in creating this culture has been the Employee Health and Wellness Committee. The committee is comprised of representatives from each Strategic Business Unit (SBU) within SSOE, and was established to implement wellness programs company-wide, educate and encourage employees to maintain a healthy lifestyle, and help them to make smart choices both at work and at home.
"SSOE's Wellness Committee is extremely excited about this award. It is evidence that both employees' and management's commitment to our wellness program is working to achieve the desired results," explained Mike Murphy, Manager of SSOE's Food and Consumer Products (FCP) SBU and Co-Chair of the Employee Health and Wellness Committee. Mike adds "the various programs that have been put in place are meant to engage the largest number of employees and have the biggest impact on creating healthy lifestyles." Some of the programs available are onsite health and wellness screenings, a walking challenge, VivoFit digital pedometers, membership subsidies for fitness centers or WeightWatchers, wellness related lunch and learns, and tobacco cessation programs.
"The development of a comprehensive health and wellness program was initiated and is led by human resources and our employees through the wellness committee," commented Bob Howell, President and CEO of SSOE. "This is an extremely gratifying award as we didn't pursue this by self-nominating; we were awarded because of our progressive programming that exists to help employees make healthier lifestyle choices."
SSOE was presented with the Culture of Health Award by CHC Wellness at the firm's World Headquarters in Toledo, following a presentation of the firm's annual Employee Engagement Survey results. Based on the results of that survey, the wellness initiatives appear to resonate well among employees who cited their favorites as the fruit of the week program, onsite health screenings, and annual flu shots.
https://www.ssoe.com/wp-content/uploads/2015/02/150x150_SSOE_CHC-wellness-culture-of-health-award.png
150
150
hitch
http://www.ssoe.com/wp-content/uploads/SSOE-1805-Reg-2.svg
hitch
2015-02-02 17:04:14
2018-09-04 12:00:52
SSOE Group Earns CHC Wellness Culture of Health Award