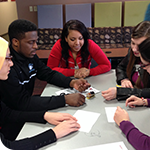 SSOE Group Forms Corporate Partnership with Toledo Public Schools Hawkins STEMM Academy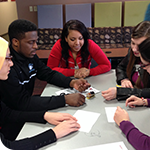 TOLEDO, Ohio, April 25, 2022 – SSOE Group (www.ssoe.com), an internationally ranked architecture and engineering firm, is excited to announce that they have formed a corporate partnership with Toledo Public Schools (TPS) Hawkins STEMM Academy. One of four designated STEMM elementary schools in the district, Hawkins teaches students curricula related to science, technology, engineering, mathematics, and medicine (STEMM). Hawkins is a feeder school to other Career Technology Pathway programs such as the TPS architectural drafting program and Toledo Technology Academy, both of which SSOE has partnered with in the past to create high school apprenticeship opportunities in an effort to develop talent locally to stay local.
With the downward trend of STEMM graduates in recent years, SSOE has a vested interest in supporting STEMM career paths to help build a future pipeline of technical talent and inspire more students in underrepresented groups and provide them early exposure to STEMM fields and the confidence to pursue their passions. As a result, several objectives have been established for this partnership. These objectives include supporting the Hawkins STEMM Academy in achieving the Ohio STEMM Learning Network STEMM designation; inspiring creative and critical thinking; exposing students to careers in engineering, design, and construction; and developing a framework of success that can be used by other TPS schools with the potential to create similar partnerships from the firm's various offices across the U.S.
Dr. Romules Durant, CEO / Superintendent of TPS, commented on the partnership with SSOE, stating, "We are so appreciative of the partnership SSOE has formed with Hawkins STEMM Academy. What a tremendous opportunity for students to learn something new from an industry leader. The work the SSOE mentors are doing with the students is invaluable."
Brad Rowe, CCWP, Senior Vice President, People & Culture at SSOE, also commented on the partnership stating, "While we only recently kicked off this program at Hawkins STEMM Academy, we're already seeing growth and engagement as a result of the collaboration taking place between the students and the SSOE's mentors. For some students, our employees may be the only people they know who chose STEMM careers themselves. And the framework that this partnership provides is beneficial to all participants, not just the students."
SSOE's corporate vision is to design and build the future for their clients, colleagues, and communities. The firm, founded in Toledo in 1948, has been a long-time supporter of the city where its global headquarters resides and a strong proponent of sharing in the advantages of SSOE's success in the communities that neighbor the firm's offices, whether through educational and charitable programs, volunteerism, or financial support. SSOE and TPS are using the remaining 2021 / 2022 school year to pilot the framework for this partnership. Starting next school year, SSOE employees will volunteer to mentor students approximately five hours per quarter in teams of two with a classroom teacher to assist with experienced-based learning objectives set forth by Hawkins STEMM Academy's School Core Team. To further solidify SSOE's commitment to this partnership with TPS, the firm has also made a financial contribution to the Hawkins STEMM Academy.
This Wednesday, April 27th, from 2:00 – 3:00 PM (EST), SSOE and TPS are inviting local media outlets to Hawkins STEMM Academy to observe mentors as they guide students through a hands-on STEMM-focused activity. Hawkins STEMM Academy is located at 5550 W. Bancroft Street, Toledo, Ohio 43615.
https://www.ssoe.com/wp-content/uploads/E_140331_150x150.png
150
150
Jenni Roder
http://www.ssoe.com/wp-content/uploads/SSOE-1805-Reg-2.svg
Jenni Roder
2022-04-25 13:00:17
2022-06-01 22:26:27
SSOE Group Forms Corporate Partnership with Toledo Public Schools Hawkins STEMM Academy