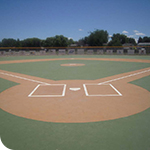 SSOE Group Helps Miracle League of Northwest Ohio Construct Concession / Restroom Building and Resurface Field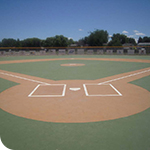 TOLEDO, Ohio, April 23, 2018 – SSOE Group (www.ssoe.com), a global project delivery firm for architecture, engineering, and construction management, has provided pro bono engineering services to support the Miracle League of Northwest Ohio (MLNWO). Launched in 2006, MLNWO is a baseball league inclusive of all children, a majority of which would not have an opportunity to play the sport otherwise due to disabilities and special needs.
SSOE has been working with MLNWO on a major project: resurfacing their 22,000 SF field and constructing a 2-story, 2,000+ SF concession / restroom building. The inclusion of a handicap accessible restroom facility will provide great assistance to the families of MLNWO's special needs players, and the addition of running water will offer families ease, comfort, and privacy, as well as access to medical and hygiene needs. The addition of a concession stand with electricity and water will allow MLNWO to expand their fundraising efforts and provide more security to the storage of league assets. Field resurfacing is scheduled to be completed in the summer of 2018, providing a much safer surface for MLNWO players, who often need special equipment, such as a wheelchair or walker, to assist with mobility. Construction on the restroom / concession building is expected to conclude in the fall of 2018.
The partnership between SSOE and MLNWO continues to grow through the steadfast efforts of employee Mike Pappas, Department Manager of Controls within the firm's Food and Consumer Products division. Last year, Mike donated nearly 400 hours of service through SSOE's corporate-wide volunteerism program—the equivalent of fifty 8-hour workdays and by far the highest number of volunteerism hours submitted in 2017. SSOE's volunteerism program, implemented by CEO Bob Howell in 2015, gives employees the opportunity to earn money for their favorite charities by volunteering their time and talents.
For Mike, supporting MLNWO is more than just an act of volunteerism—it's a passion project. The father of three, Mike's son Corey suffers from both cerebral palsy and blindness. With limited motion capabilities and mechanical skills, everyday activities are a challenge for Corey. Fortunately, the activities hosted by MLNWO have fostered a feeling of inclusion for Corey as well as a love for playing baseball.
Mike shared, "When I approached Bob [Howell] about supporting the initiative to improve the field and build a concession stand, he assured me of SSOE's support without hesitation. As an SSOE employee, I'm extremely proud to work for a company that will support a cause that matters so much to so many families. As a parent of a child who has reaped the benefits from MLNWO's program and activities, I'm very grateful."
About The Miracle League of Northwest Ohio
MLNWO is a volunteer-operated nonprofit organization that offers an opportunity for children and adults of all physical and cognitive abilities to participate in an inclusive, team-oriented baseball league. Their mission is to provide the community with a safe, nurturing, and fully accessible environment where everyone plays and everyone wins. For more information on MLNWO, visit www.mlnwo.org.
https://www.ssoe.com/wp-content/uploads/2018/04/150x150_SSOE_miracle-league-of-northwest-ohio-construct-concession-restroom-building.png
150
150
Katie Junga
http://www.ssoe.com/wp-content/uploads/SSOE-1805-Reg-2.svg
Katie Junga
2018-04-23 12:12:38
2018-07-17 13:16:15
SSOE Group Helps Miracle League of Northwest Ohio Construct Concession / Restroom Building and Resurface Field