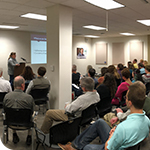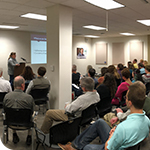 TOLEDO, Ohio, March 26, 2018 – SSOE Group (www.ssoe.com), a global project delivery firm for architecture, engineering, and construction management, announced a new employee benefit today: the Flexible Work Arrangement (FWA) Program. The program was an idea that came from SSOE's Millennial and Gen X CEO Advisory Committees, Sustainable Design Committee, and Employee Culture brainstorming sessions.
Starting April 29th, SSOE's U.S. regular full-time employees will have the option to work:
Four 9-hour days with a half day off every Friday
Eight 9-hour days and one 8-hour day over 2 weeks with every other Friday off (limited eligibility) OR
Standard hours, working remotely every Friday
In addition to the goal of improving work / life balance, SSOE's Corporate Human Resources Manager, Kim Robertson, cited a number of reasons for the shift, including their focus on diversity, "We want to make sure we are removing as many barriers as possible for employees who may require some flexibility to accommodate their lifestyle." Robertson continued, "Another important goal behind the full day off and remote options came from our sustainability committee who is looking for ways to reduce the carbon footprint of employees driving into work. It is also very much in line with our performance management culture—the idea of managing the results of employees' work rather than the specific means and methods."
Last April through September, SSOE completed a pilot of the program across four departments and the firm's Nashville, Tennessee office to test the program's viability. Due to the program's success, we are now offering this option to all of our U.S. offices. Employees will also have the opportunity to modify daily start and end times, provided they are working the core hours of 9 am through 4 pm.
Jennifer Wuertz, Director of Talent Management, said, "This program demonstrates SSOE's commitment to our employees. Our employees were asking for flexible schedules and remote work. As a Great Place to Work®, this is one more perk that will help us attract and retain the best talent in an extremely competitive market and better serve our world-class clients."
SSOE offers its U.S.-based employees an extensive list of benefits programs and employee perks, including the option to buy / sell paid time off, subsidized gym memberships, tuition reimbursement, and a 401(k) plan match. In addition, SSOE offers additional work perks such as SSOE swag for new employees, BRAVO employee recognition program, a one-day SSOE Experience class for new employees, employee appreciation clubs, volunteerism programs, and career progression. Eligibility for the FWA program is dependent upon client needs and manager approval.
To learn more about career opportunities at SSOE visit www.ssoe.com/careers.
https://www.ssoe.com/wp-content/uploads/2018/03/150x150_SSOE_new-work-perk-for-employees-with-flexible-work-arrangement-program.png
150
150
Katie Junga
/wp-content/uploads/2018/05/logo_ssoe.png
Katie Junga
2018-03-26 09:44:40
2018-07-03 19:24:17
SSOE Group Introduces New "Work Perk" for Employees with Flexible Work Arrangement (FWA) Program