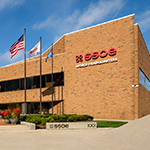 SSOE Group invests $1M into World Headquarters in Downtown Toledo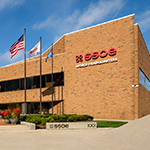 TOLEDO, Ohio, April 3, 2023 – SSOE Group (www.ssoe.com), an internationally ranked architecture and engineering firm, is proud to announce their continued investment into Downtown Toledo, OH with a $1 million renovation of their World Headquarters ahead of their 75th anniversary in August. SSOE employs 350+ professionals in their downtown Toledo location with an additional 950+ located across the U.S., India, and Mexico.
Improvements to the building include a renovation of the building's lobby to incorporate a more sleek, modern feel with architectural accents featured throughout the space. In addition to the lobby updates, a new presentation room is being built on the first floor of the building. Announcing the renovations at the firm's headquarters, SSOE's CEO, Vince DiPofi, PE, explained, "This summer, we will celebrate our 75th anniversary, all of those years located here downtown, and that legacy will remain as we continue to live out our vision of designing and building the future for our clients, colleagues, and communities. As a board member of local organizations ConnecToledo, United Way of Greater Toledo, and past board member of the Downtown Improvement District, I am personally invested, and I am excited about the opportunity for SSOE to continue to invest in downtown Toledo."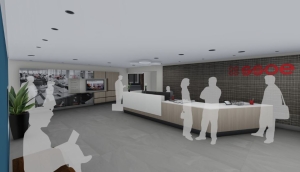 A further look into the plans for upgrades reveals the presentation room will seat 24 people and feature accent lighting, an impressive nine TV display, and technology to enhance virtual or hybrid meeting formats. Other construction underway in the firm's headquarters includes the renovation of two bathrooms near this new presentation room which will now be single-use, larger, and unisex. Additional conference rooms within the area will get a refreshed look. The building's main women's restrooms will be renovated to increase capacity, and the nursing room will get updates.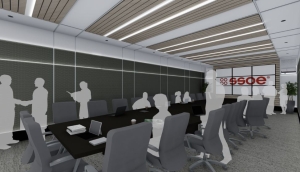 Upgrades to SSOE's corporate headquarters were designed by an in-house team led by Senior Architect / Project Manager, Lance Mushung, AIA, NCARB. He commented, "We set out to create a modern and more accessible presentation room on the first floor of our corporate headquarters for our clients and colleagues. The new space is located immediately off the main lobby, which is also receiving upgrades to reflect the SSOE brand and corporate culture. We look forward to welcoming visitors into the space very soon!" SSOE is utilizing local construction partners for the project including general contractor, Spieker Company; electrical contractor, Laibe Electric; and HVAC and plumbing contractor, Positive Trades Group. Construction is currently underway with a completion date slated for this summer, in time for SSOE's 75th anniversary celebrations.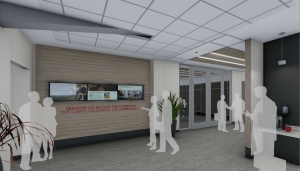 The firm's commitment to the community goes well beyond the local tax dollars. SSOE is a strong supporter of the United Way (UW), SSOE also houses the United Way of Greater Toledo within its building. The UW staff will have access to these renovated spaces. In addition to its support of dozens of local charities, SSOE also maintains invaluable partnerships with local universities, including Owens, Bowling Green, and the University of Toledo. They play a large role in expanding Toledo's position in the growing knowledge-based economy—by helping to attract and retain highly-technical, highly-educated workers.
Many of downtown Toledo's most recognized buildings have been designed by SSOE. Some of these buildings include the SeaGate Convention Center (now the Glass City Center), the LOF Building (Hylant), the former Toledo Trust headquarters / Key Bank, now part of ProMedica's headquarters, ProMedica headquarters steam plant project, The Toledo Edison Building, Webstrand office building (now known as 4 Seagate), the Summit Center, the former Radisson Hotel / Park Inn, the riverfront headquarters of the American Maritime Officers, the Community Services Building, Shumaker Loop and Kendrick's downtown office, Stranahan Square Building (former United Way of Greater Toledo Headquarters), Directions Credit Union headquarters, and ProMedica's Ebeid Institute for Population Health including the Market on the Green. Currently, SSOE is providing engineering services for the new Jefferson Center.
As a Top 15 Engineering / Architecture firm for more than a decade, SSOE has nearly 20 offices globally including four locations in Ohio; and international office locations in Mumbai, India; Chihuahua, Mexico; and León, Mexico. They have completed projects in more than 40 countries and have been named a "Great Workplace" by the Great Places to Work organization, adding that to their distinction as one of the "Best AEC Firms to Work For" previously awarded by the publication Building Design + Construction.
Additional details will be published this summer regarding the firm's anniversary press conference / renovation space walk-through that will take place in August.
https://www.ssoe.com/wp-content/uploads/ssoe_headquarters_150x150.jpg
150
150
Jenni Roder
http://www.ssoe.com/wp-content/uploads/SSOE-1805-Reg-2.svg
Jenni Roder
2023-04-03 10:00:38
2023-04-03 11:15:00
SSOE Group invests $1M into World Headquarters in Downtown Toledo