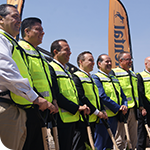 SSOE Group Performing EPCM Services for Continental AG's Greenfield Plant of the Future in Central Mexico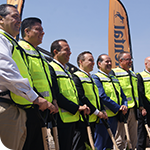 Construction Commenced During July's Groundbreaking Ceremony
AGUASCALIENTES, Mexico, July 19, 2019 – SSOE Group (www.ssoe.com), a global project delivery firm for architecture, engineering, and construction management was hired by Continental AG to perform engineering, procurement, and construction management (EPCM) services for their new 25,000 sq. m. (nearly 270,000 SF) automotive electronics components production facility located in FINSA Industrial Park in Aguascalientes, Mexico. This facility has been designed as a "plant of the future", incorporating cutting-edge technologies and energy efficiencies with the goal of achieving LEED® Gold certification.
The project consists of a single-story manufacturing facility and adjacent 2-story office, staff area, and cafeteria. SSOE completed facility design within the client's desired 5-month schedule and construction officially began on July 9, 2019 at the groundbreaking ceremony. The ceremony, also known as the "first stone", was attended by clients, suppliers, and government authorities and included interactive presentations. SSOE was able to showcase the facility's renderings as well as allow attendees to do a visual walk-through using Virtual Reality (VR) equipment. Click here to watch Continental's video shown during the groundbreaking. Continental is expected to start producing various new technologies from this facility, such as smart antenna modules, lighting and door control units, and more, beginning in 2021.
"This new plant in Aguascalientes is an important part for the growth of our company worldwide and the support of SSOE has been fundamental to meet our objectives." said Osvaldo Baltazar, Continental Communication, Mexico.
Erick Kuri, SSOE's Mexico Operations Manager, commented on the project stating, "Our León team's significant experience in the Mexican construction industry sector, in-depth knowledge of Mexican specifications and codes, and ability to obtain a temporary certificate of occupancy right on schedule helped keep this project moving. With our León office leading the planning and design of this project, SSOE's U.S. staff supported the Mexico team with specific expertise, showing again how SSOE's culture of collaboration has no boundaries." The team developed 3D models utilized during design review sessions with the client—allowing them to virtually walk-through the facility to gain input for decision making. We are excited now to move from design into construction, offering our field support and on-site construction management services, bringing Continental's desired vision for their new facility to life."
From the start, LEED compliance was important to the client. SSOE's experience completing more than $1 billion in LEED-certified facilities and their vast network of LEED Accredited Professionals helped them formulate a design strategy that fulfilled Continental's sustainability needs and expectations. This included an energy-efficient building shape and innovative solutions in building technologies.
SSOE has a 25-year history performing work for clients in Mexico including the construction of a 1.9 million SF assembly plant in Aguascalientes for Nissan where SSOE provided comprehensive planning, design, and construction support. They have also worked with American Axle and Faurecia, to name a few, but their experience in Mexico reaches well beyond the automotive market. Their in-country food and commercial portfolio includes projects for clients such as ConAgra, Nestle, Hershey, and Walmart.
For more information on this project, click here.
https://www.ssoe.com/wp-content/uploads/continental_150x150.png
150
150
Jenni Roder
http://www.ssoe.com/wp-content/uploads/SSOE-1805-Reg-2.svg
Jenni Roder
2019-07-19 15:59:16
2019-07-19 21:46:56
SSOE Group Performing EPCM Services for Continental AG's Greenfield Plant of the Future in Central Mexico