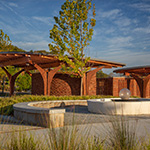 SSOE Group Provided Architecture, Planning, and Engineering Services for Award-Winning Avondale Estates Town Green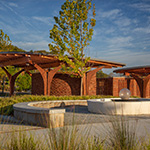 Project Received the Atlanta Regional Commission's 2022 Regional Excellence Award in the Great Places Category
ATLANTA, Georgia, December 16, 2022 – SSOE Group (www.ssoe.com), an internationally ranked architecture and engineering firm, is proud to be a part of the City of Avondale Estates' and the Avondale Estates Downtown Development Authority's award-winning Town Green project. The project was recently awarded the Atlanta Regional Commission's (ARC) 2022 Regional Excellence Award in the Great Places category. The ARC's annual awards honor visionary projects that are improving the quality of life in communities across metro Atlanta. Avondale Estates, one of Atlanta's first planned communities in the United States, is known for its Tudor-style downtown. The Town Green, the heart of the downtown, provides a sense of place and community through adaptable open spaces for planned events and casual gatherings, while serving as an anchor for future development.
In 2017, Avondale Estates launched an open, public process to determine the best use of the land, later named the Town Green. A total of 13 design options were received. The selected concept was submitted by Avondale Estates resident and local SSOE architect Sheri Locke. Locke's design included commercial buildings next to the road and a public green space behind them.
In November 2019, the city hired Fabric Developers, who then selected the project's design and construction firms. SSOE was chosen to provide architectural, planning, and engineering services on this $5.7 million four-acre project—a two-acre park with two acres remaining for an interim solution and potential commercial solution.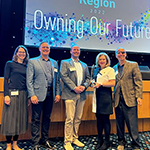 Sheri Locke, AIA, Design Architect on the project, commented, "This project was a once-in-a-lifetime opportunity for the City of Avondale Estates to create a center for its downtown and spur growth around it. SSOE's Bill Clark, Principal and Project Manager on this project, and I both live in Avondale Estates, so it has been a special project for each of us and ties perfectly into the heart of what we're trying to accomplish as a firm—to design and build the future for our clients, colleagues, and communities. We and our talented landscape architecture and engineering team worked hard to design a 'uniquely Avondale' public space and landmark for the city and all who visit to enjoy."
Bill and Sheri attended the award ceremony with Avondale Estate's Mayor (Jonathan Elmore), City Manager (Patrick Bryant), Assistant City Manager (Shannon Powell), and Fabric Developers (Jerry Miller).
To learn more about the ARC's Regional Excellence Awards and see a video of the presentation, click here.
https://www.ssoe.com/wp-content/uploads/avondale_estates_150x150.jpg
150
150
Jenni Roder
http://www.ssoe.com/wp-content/uploads/SSOE-1805-Reg-2.svg
Jenni Roder
2022-12-16 10:00:31
2022-12-15 20:44:45
SSOE Group Provided Architecture, Planning, and Engineering Services for Award-Winning Avondale Estates Town Green