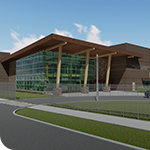 SSOE Group Provides Design Services to United Brotherhood of Carpenters and Joiners of America for New Workforce Training Facility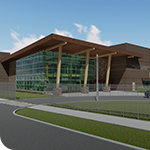 TOLEDO, Ohio, February 25, 2020 – SSOE Group (www.ssoe.com), a global project delivery firm for architecture, engineering, and construction management, is proud to announce that they are providing architectural and engineering design services to the United Brotherhood of Carpenters and Joiners of America for their new $30 million, 147,000 SF Michigan Carpenters and Millwrights Joint Apprenticeship and Training Fund's (MCMJATF) training center located in Detroit. This investment is the largest ever made by the Michigan Regional Council of Carpenters.
The new facility will be used to provide instruction to Detroit-area carpenter and millwright apprentices and journeymen, and is anticipated to be able to train 150 – 200 students at a time. The facility will also house the Michigan Regional Council of Carpenters offices and Local Union Representative offices. The project is currently in the design phases, but construction is anticipated to begin in May of 2020.
The training center will be a two-story building with steel frame and metal panel envelope for the training areas and will showcase materials and finishes performed by the carpenters and millwrights in the main entry and public areas. This new facility design will consist of mixed-use space including office and administration areas, a multi-purpose room for career and vendor fairs, classrooms for instructional use, two high bay work areas for hands-on learning, welding lab (with self-contained filtration / ventilation system), bridge crane, council area / offices, and building support areas.
SSOE's Sonny Hamizadeh, AIA, Principal, and Architectural Department Manager stated, "SSOE was selected for this project based upon our knowledge and expertise in design for these unique spaces and delivery strategy that ensures an efficient and optimized process. We understand the trends that will impact our clients into the future and we deliver facilities poised to attract talent and produce a workforce with relevant skillsets."
Recently, SSOE helped Youngstown State University design their Excellence Training Center. This workforce training facility, which broke ground last fall, offers a real-life simulated advanced manufacturing environment housing approximately $5.5 million in equipment. SSOE is also working with Owens Community College on a 58,600 SF Advanced Manufacturing Training Center renovation, which is currently in Phase II of construction. Once completed, this facility will serve as an effective recruiting tool for the college to attract and retain students and prepare them for success as they enter today's workforce. Other clients the firm has worked with to deliver workforce development and training center projects include BMW, Clemson, Northwest State Community College, Transportation Research Center, Toyota, The United Association of Plumbers & Steamfitters Local Union 773, and Volkswagen AG.
For more information visit: https://www.ssoe.com/markets/workforce-development/
https://www.ssoe.com/wp-content/uploads/UBC_training_center_150x150.png
150
150
Jenni Roder
/wp-content/uploads/2018/05/logo_ssoe.png
Jenni Roder
2020-02-25 13:27:03
2021-04-09 17:06:56
SSOE Group Provides Design Services to United Brotherhood of Carpenters and Joiners of America for New Workforce Training Facility