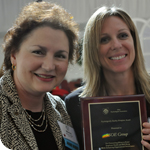 SSOE Group Recognized for Designing the Right Balance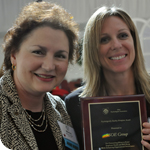 TOLEDO, Ohio, December 01, 2010– Despite high stress and anxiety levels that often accompany uncertain economic conditions, SSOE Group (www.ssoe.com) has managed to help its employees in living less stressful lives. In an awards ceremony on November 19th, the Ohio Psychological Association (OPA) named SSOE one of four psychologically healthy workplaces.
"SSOE is committed to the care and well-being of our employees, we don't just tell them to 'take care,' we help them do it," said Monica Dugan, HR Director of SSOE. "We understand being happy at work is essential. And with a 98 percent employee retention rate, there's some proof SSOE supports – rather than giving lip service to – a real work/life balance. SSOE tries to be forward thinking in how we structure our benefits. 'Happy clients, happy staff' isn't just a tag line, we live it."
SSOE offers a generous benefits package that includes perks and programs supporting physical and mental health, encouraging work/life balance, and empowering career advancement and financial success. SSOE believes monetary compensation is just a portion of what it has to offer. To help its employees, SSOE offers peer mentoring and educational assistance, as well as a working well program which include free flu shots, gym membership subsidies, on-site fitness classes, fruit of the week, smoking cessation, quarterly chair massages, and Weight Watchers incentives. Additionally, it operates on modified flex time which allows a full-time employee the flexibility of adjusting their arrival and departure time. SSOE also allows for part time status, special part-time status for retirees, or the flexibility for individuals to work as-needed, and telecommuting.
In addition to being recognized by the OPA, SSOE also has been named "Best AEC Firm to Work For" (Building Design + Construction), a Crain's "Cool Places to Work", and was a recipient of the United Way's Parent Friendly Workplace Award.
In order to be considered for this award, an application must be submitted to the OPA and a panel of OPA members must conduct a site visit. The workplace is evaluated on five areas: employee involvement, employee growth and development, health and safety, employee recognition and work-life balance.
For more information on the 2010 Psychologically Healthy Workplace Award, please visit the OPA website: http://www.ohpsych.org/2010phwarelease.aspx
https://www.ssoe.com/wp-content/uploads/2010/12/150x150_SSOE_recognized-for-designing-the-right-balance.png
150
150
hitch
http://www.ssoe.com/wp-content/uploads/SSOE-1805-Reg-2.svg
hitch
2010-12-01 20:11:37
2018-07-11 20:08:49
SSOE Group Recognized for Designing the Right Balance