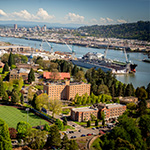 SSOE Group Sponsor of the University of Portland, Shiley School of Engineering's 2023 Net Zero Design Competition Team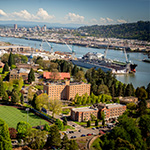 PORTLAND, Oregon, February 22, 2023 – SSOE Group (www.ssoe.com), an internationally ranked architecture and engineering firm, is proud to announce its sponsorship of the University of Portland, Shiley School of Engineering's 2023 Net Zero Design Competition Team. The sponsorship benefits the University of Portland's American Society of Heating, Refrigeration, and Air Conditioning Engineers (ASHRAE) competition team at the annual collegiate competition. Engineering students from across the globe have worked on their projects throughout the fall semester and are continuing into the spring. In May, students will submit their projects to ASHRAE and in August, the winners will be announced. This is the firm's second year sponsoring a University of Portland competition team.
The Net Zero Energy Design Competition aims to encourage students to extend their knowledge beyond core mechanical systems. Teams can compete in one of three categories: HVAC Design Calculations, HVAC System Selection, and Net Zero Energy Design. The University of Portland team chose the Net Zero Energy Design category. Multidisciplinary teams in this category are expected to schematically design an energy-efficient, sustainable project approaching a Net Zero Energy building with minimized energy demands for HVAC and all other technical systems that could be satisfied with locally available and/or building-installed Renewable Energy Sources (RES).
For this year's competition, students have been challenged with a project involving a new laboratory building at a research center in Cairo, Egypt. The final HVAC system selection and design for the proposed building must address the following major design goals: low lifecycle cost, low environmental impact, comfort and health, creative high-performance green design, and synergy (with architecture).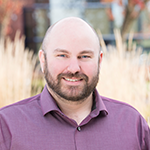 SSOE's Brandon Schneider, PE, PMP, Department Manager, and Senior Associate is the University of Portland's team sponsor liaison. Brandon acts as an industry advisor and coordinates other activities including site tours and mock interviews. He commented on his role stating, "I am honored to assume the role of industry advisor for these students' capstone project. I really enjoy sharing what I have learned throughout my career and helping those looking to enrich their own lives. As a University of Portland alumnus, I often have staff and students reach out to me for support and advice. In line with SSOE's vision to design and build the future for our clients, colleagues, and communities, I am always happy to support my community and those looking for guidance."
"Projects like this provide a crucial link between the classroom and the real point of engineering —improving the world," said C.J. Hainley, instructor in the Shiley School of Engineering. "Students begin to develop a feel for engineering when they participate in these projects. It's the difference between playing scales on a piano and improvising a solo. You learn the scales in the classroom — you play music when you design something real."
For a full design competition description, questions, and timelines visit: https://www.ashrae.org/communities/student-zone/competitions/2023-design-competition
About the University of Portland
The University of Portland is an independently governed Catholic university guided by the Congregation of Holy Cross; with a mission focusing on teaching and learning, faith and formation, and service and leadership. The University of Portland is ranked #1 among colleges and universities in the American West by U.S. News & World Report.
https://www.ssoe.com/wp-content/uploads/university_of_portland_150x150.jpg
150
150
Jenni Roder
http://www.ssoe.com/wp-content/uploads/SSOE-1805-Reg-2.svg
Jenni Roder
2023-02-22 11:00:50
2023-02-22 11:24:22
SSOE Group Sponsor of the University of Portland, Shiley School of Engineering's 2023 Net Zero Design Competition Team