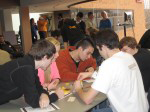 SSOE Group Sponsors Annual "Engineers Week" Programs in Nashville, Portland, and Toledo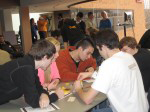 TOLEDO, Ohio, February 18, 2014 – SSOE Group, a global EPCM firm (www.ssoe.com), is proud to announce its sponsorship of Engineer's Week activities in their Nashville, Tennessee; Portland, Oregon; and Toledo, Ohio locations. The annual event, being held February 17-21, 2014, exists to increase public dialogue about the need for engineers and bring engineering to life for students, educators, and parents. To assist this mission, SSOE will be a Silver sponsor for the 49th annual Portland engineer's week high school program and is inviting area high school students to participate in hands-on activities in their Toledo and Nashville locations.
On February 19, approximately 25 students from 5 Toledo-area high schools will visit SSOE's headquarters for the "Engineer for a Day" program. To kick off the event, students will view a demonstration on electrical engineering titled, "Let's Build a Motor." SSOE engineers will lead a presentation on computer engineering and the application of 3D technology and animation software in the engineering profession. The day will wrap up with a hands-on activity titled, "Construct a Building Frame" which will test the students' creativity with various structural design options and their ability to work as a team while managing a theoretical project budget and schedule.
On March 5, SSOE's Nashville office will host local high school students, introducing the world of engineering to them through activities that include building a bridge, accompanied by presentations on structural engineering, and an overview of a basic engineering project including scope, schedule, and budget.
According to the U.S. Bureau of Labor statistics, the field of engineering is expected to grow by 10 percent in the coming decade while a declining number of students are prepared for the rigorous coursework required to be successful.  As the demand for engineers grows, SSOE is committed to preparing students for successful careers by generating interest and improving diversity in the science, technology, engineering, and math (STEM) field.  In addition to their participation in the Engineer's Week program, SSOE has an active co-op program, and is a proud sponsor of the National Math and Science Initiative (NMSI)—an organization with the mission of improving student performance in the critical STEM subjects.
https://www.ssoe.com/wp-content/uploads/2014/02/150x150_SSOE_sponsors-annual-engineers-week-programs.png
112
150
hitch
https://www.ssoe.com/wp-content/uploads/SSOE-1805-Reg-2.svg
hitch
2014-02-18 17:40:45
2018-07-11 16:23:59
SSOE Group Sponsors Annual "Engineers Week" Programs in Nashville, Portland, and Toledo