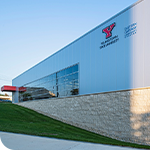 SSOE Group's Youngstown State University Excellence Training Center Project Holds Ribbon Cutting to Commemorate Grand Opening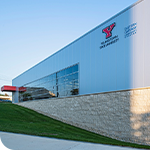 TOLEDO, Ohio, August 31, 2021 – SSOE Group (www.ssoe.com), a global project delivery firm for architecture, engineering, and construction management, is excited and proud to announce their Youngstown State University Excellence Training Center (ETC) project hosted a ribbon cutting at the end of July. The ETC, located in Youngstown, Ohio, is a $12 million facility that will serve as an advanced manufacturing education and workforce training facility.

SSOE worked with Youngstown State University on the creation of the ETC, which includes CNC, machining, robotics, foundry, training labs, high-bay workspaces for large projects, metals and 3D printing labs, a secure group project space, industry partner office, and collaboration spaces. The ETC will house approximately $5.5 million worth of advanced manufacturing equipment, high-bay areas to be used as laboratories, classrooms, faculty offices, restroom facilities, and storage areas. The development of the program required a 24,000 SF renovation to an existing facility on campus along with a 29,000 SF addition. In addition to the design of the facility, SSOE assisted Youngstown State University faculty and staff with developing detailed bid documents for repairs, renovations, and new construction—inclusive of conducting evaluations and recommending bid award—while also providing on-site construction administration services.
Tim Swartz, AIA, NCARB, SSOE's Higher Education Architect and Training Center Specialist, stated, "The utilization of our significant manufacturing facility and process design experience allowed for the design team to lead the Youngstown State University Excellence Training Center Committee through the design process. This resulted in the creation of a real-life simulated advanced manufacturing environment that will ultimately allow students to be fully prepared to enter real-world manufacturing environments upon program completion."
David Sipusic, Executive Director of Youngstown State University's Excellence Training Center, stated, "For Youngstown State University and the surrounding community, this $20 million project, including the cost of equipment, is not something typically built in the area. For SSOE to come in and work on such a critical project—from the way they handled the coordination of meetings to the management of multiple teams on the way to completing this project—was top-notch. Such thought went into the design and material use and how they brought everything together to establish this advanced manufacturing training center … we couldn't be more pleased. It was a pleasure partnering with SSOE on this project."
SSOE has extensive global automotive and manufacturing experience combined with nationwide higher education expertise. The firm has completed thousands of industrial projects and kept pace with the dynamic workforce development sector by working alongside experts in the field. The application of the knowledge the firm has gained results in the delivery of a teaching and training facility that reflects today's manufacturing environments.
For more information visit: www.ssoe.com/workforce-development.
https://www.ssoe.com/wp-content/uploads/YSU_150x150.png
150
150
Jenni Roder
/wp-content/uploads/2018/05/logo_ssoe.png
Jenni Roder
2021-08-31 10:51:32
2021-10-14 14:26:55
SSOE Group's Youngstown State University Excellence Training Center Project Holds Ribbon Cutting to Commemorate Grand Opening