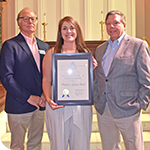 SSOE | Stevens & Wilkinson's Kimpton Sylvan Hotel Receives Georgia Trust for Historic Preservation Award for Excellence in Rehabilitation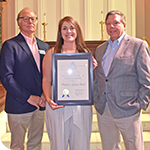 ATLANTA, Georgia, May 13, 2022 – SSOE | S&W (www.ssoe.com), an internationally ranked architecture and engineering firm, is proud to announce that the Kimpton Sylvan Hotel received The Georgia Trust for Historic Preservation's 2022 Preservation Award for Excellence in Rehabilitation. The Georgia Trust is one of the country's leading statewide, nonprofit preservation organizations, working for the revitalization of Georgia's diverse historic resources and advocates, their appreciation, protection, and use. The Excellence in Rehabilitation Award is presented annually for projects that make compatible use of a building through repair, alterations, or additions while preserving features of the property that convey its historic value.
"The transformation of this mid-century modern tower through its adaptive reuse into a high-design / boutique hotel is a gift to the bourgeoning Buckhead community, giving all a glimpse back to an era of modern architecture not often seen or preserved in Atlanta," said SSOE's Ron Stang, AIA, Principal-in-Charge on the project and Strategic Business Unit (SBU) Manager of the firm's Building Design Group.
Constructed in the early 1950s as an affordable housing apartment development, it was briefly the tallest building in Atlanta's iconic Buckhead Village District. This significantly contributed to the acceptance of the building's application for historic designation, which in turn dictated the preservation efforts that were required of this hotel conversion project.
As part of the historic rehabilitation, the building was restored to its previous mid-century modern style after previous renovations converted the building into senior housing and condominiums. The SSOE | S&W design team transformed the condominium units into a 216-key hotel that now features a restaurant and bar, courtyard dining, private pool, and stylish rooftop lounge.
The original corridors and circulation cores were maintained, and the guestrooms were configured to closely align with the footprint of the initial 1950's apartments. In addition, the original windows were refurbished, and the previous deck was expanded by converting an abandoned mechanical penthouse into a colorful bar venue with roll-up doors and sweeping views of the neighborhood.
The name "Sylvan" was derived from the Latin silva, meaning forest, which is fitting for a hotel situated among the trees on a sizable low-density lot. The preservation of expansive landscaped areas, dining patios, and secret gardens surround the property—each with substantial hundred-year oak and magnolia trees.
SSOE | S&W's Laura Morton, AIA, Project Manager and Lead Architect on the Kimpton Sylvan Hotel project, stated, "The design team was challenged with renovating and restoring a forgotten mid-century modern gem hidden amongst the canopy of Buckhead and transcended expectation by establishing the hotel as a destination and welcome respite from the bustle of Atlanta."
To date, the Kimpton Sylvan Hotel project also earned a design award from the Atlanta Urban Design Commission for Excellence in Adaptive Use and is a Certified Rehabilitated Historic Property per the Georgia Department of Natural Resources Historic Preservation Division.
The building team for this project—for owner Portman Holdings, an Atlanta-based real estate development company—consisted of architectural and engineering services provided by SSOE | S&W; general contractor services by Reeves Young; interior design services by Goodrich; landscape architecture services by TSW and Savino & Miller Design Studio; civil engineering services by Kimley-Horn; structural engineering services by Stanley D. Lindsey and Associates, Ltd. (SDLAL); lighting design services by Lux et Veritas Design; and historic preservation consulting services by Ray, Elis & LaBrie Consulting.
For more information, read SSOE | S&W's project profile here.
https://www.ssoe.com/wp-content/uploads/Kimpton_Georgia_Trust_Award_150x150.png
150
150
Jenni Roder
http://www.ssoe.com/wp-content/uploads/SSOE-1805-Reg-2.svg
Jenni Roder
2022-05-13 17:45:30
2022-07-01 13:24:55
SSOE | Stevens & Wilkinson's Kimpton Sylvan Hotel Receives Georgia Trust for Historic Preservation Award for Excellence in Rehabilitation