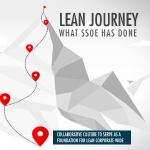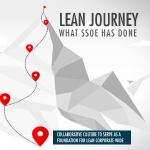 "A/E Firm's Lean Journey: Practical Tips to Prepare and Equip Even Your Biggest Skeptics"
CINCINNATI, Ohio, November 27, 2019 – SSOE Group (www.ssoe.com), a global project delivery firm for architecture, engineering, and construction management, announced today that four of their professionals will present at Lean Construction Institute's (LCI) Ohio Valley Community of Practice (CoP) event in Cincinnati on Tuesday, December 2, 2019 from 2:00pm – 4:00pm.
Nate Czerniejewski, PE, PMP, General Manager, EPCM; Brad Rowe, CCWP, Division Manager, Mexico Operations;  Chelsea Kania, Systems Administrator; and Julie Dolan, Global Account Manager will present "A/E Firm's Lean Journey: Practical Tips to Prepare and Equip Even Your Biggest Skeptics" as part of LCI's Ohio Valley CoP. The presentation will speak to the evolution of the firm's employee culture, training investments, process development, executive leadership commitment, and include tangible project examples that highlight SSOE's partnership with key clients throughout.
Czerniejewski has 25 years of experience and brings a valuable duality to his current role as General Manager, coupling structural engineering expertise with his breadth of on-site construction knowledge. Nate is known for his fast-track approach to engineering and design on projects. He has led SSOE Systems, the firm's construction management division, to providing millions in project savings for clients while developing and maintaining a collaborative approach to project performance.
Rowe has leveraged SSOE's decades of project experience in Mexico by helping to establish a local presence in 2014, taking over leadership of in-country operations in 2018 as Division Manager. In this role, Brad implements strategies to accelerate growth in the country where the firm has had increasing success that's led to a 150% increase in staff this year—currently providing local support to a longstanding client in Mexico City through Integrated Project Delivery (IPD) and our first Integrated Form of Agreement (IFOA).
Kania had extensive involvement in the internal organizational rollout of Kanban—commitment-based planning at design-discipline level—proved crucial to its success. She was key in structuring workshops that focus on how to more effectively visualize our team's work in order to speed up workflow. As a Kanban Facilitator, she personally trained 10% of SSOE's employee base, traveling as far as Mexico to onboard staff, and developed a governance policy for Kanbanize, the software used to put Kanban into practice.
Dolan builds impactful relationships with clients and executes business development plans for strategic high-value accounts and sectors. A creative problem solver with an engineering background and 30+ years of experience, Julie's relationship with a leading consumer products client currently on their own Lean journey has accelerated SSOE's adoption of Lean principles to drive efficiency gains in our own processes. She is a core team member of the LCI Ohio Valley CoP.
LCI's nationally supported CoPs offer opportunities to connect locally, participate in education courses and workshops, hear from local Lean project teams, attend Gemba walks, and more. At CoP events, local design and construction peers guide you to discover ways to reduce waste and add value to your project performance culture by giving you the knowledge needed to bring Lean into your business. SSOE has been a corporate member of LCI since 2015.
Registration for this event is free, but required. For more information, click here.
https://www.ssoe.com/wp-content/uploads/LCI_OV_150x150.png
150
150
Jenni Roder
/wp-content/uploads/2018/05/logo_ssoe.png
Jenni Roder
2019-11-27 11:54:44
2020-05-07 20:39:28
SSOE to Present at Lean Construction Institute's Ohio Valley Community of Practice Event