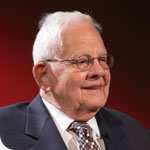 SSOE's Founder Al Samborn Honored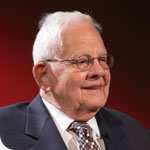 Toledo, Ohio – May 2, 2007 – In an award ceremony held Wednesday night and hosted by Toledo mayor Carty Finkbeiner, SSOE's Founding Partner, Al Samborn, was named Toledoan of the Year for his contribution to the City of Toledo in the area of Innovation. Mr. Samborn founded A.H. Samborn and Associates in 1948. It has since grown from a company of 2.5 people to 800+ employees located in 16 cities around the world.
In a separate ceremony held at SSOE's Toledo headquarters, Mr. Samborn also celebrated his 90th birthday on Tuesday. He was honored by CEO, Tony Damon along with other distinguished retirees.
Throughout his career, Mr. Samborn served in numerous professional capacities including president of the Toledo and Ohio Societies of Professional Engineers, director of the National Society of Professional Engineers, a member of the Ohio State Board of Registration for Professional Engineers, and president of the National Council of Engineering Examiners. In addition, Samborn was the driving force behind his firm's advancement into the application of computers to engineering design and is the author of many technical papers and articles.
In 1984, Mr. Samborn stepped down as SSOE's CEO and became a civil engineering professor at the University of Toledo, serving for over a decade. He has also been involved in a number of civic organizations including the American Red Cross, the United Way, Old Newsboys Goodfellow Association, Downtown Toledo Associates, Toledo Council for Business, Sight Center of Northwest Ohio, the UT Alumni Foundation, and Tower Club.
Mr. Samborn's legacy and long-term contribution to his hometown can be seen today in the company he founded. SSOE employs nearly 500 professionals in their downtown Toledo office and 300 more around the world. SSOE's total economic impact on the city is significant, based on revenues of over $90 million a year and a local payroll of over $26 million, SSOE accounts for $1 out of every $156 dollars generated in the five-county area surrounding Toledo.
Today, the leaders of the firm uphold the philosophies instilled early on by Mr. Samborn and continue tomentor, support and develop professional and community relationships.
To view the complete award nomination, visit here
https://www.ssoe.com/wp-content/uploads/2007/05/150x150_SSOE_al-samborn-honored.png
150
150
hitch
http://www.ssoe.com/wp-content/uploads/SSOE-1805-Reg-2.svg
hitch
2007-05-02 15:25:45
2018-07-12 16:03:07
SSOE's Founder Al Samborn Honored