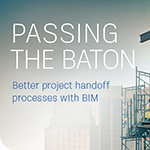 SSOE's Jeremy Woodgate Co-Authors North American Engineering Executive Council's "Passing the Baton – Better Project Handoff Processes with BIM" Whitepaper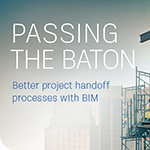 TOLEDO, Ohio, September 21, 2020 – SSOE Group (www.ssoe.com), a global project delivery firm for architecture, engineering, and construction management, is proud to announce that Jeremy Woodgate, PE, SE, Senior Vice President and Strategic Business Unit (SBU) Manager, Advanced Technology, is among 10 executives from the North American Engineering Executive Council (EXC) who recently co-authored "Passing the Baton – Better Project Handoff Processes with BIM", a whitepaper challenging the status quo of the current capital delivery supply chain.
The hand-off between design and fabrication is a key juncture in project delivery that presents significant room for increased efficiency. In "Passing the Baton," members of the EXC offer some preliminary solutions for how project owners can recognize improved project quality, better cost predictability, and shortened timelines through a more streamlined project delivery process. To read the full whitepaper, click here.
Woodgate stated, "For several years, SSOE has been able to deliver significant cost and schedule savings to our clients by working together with steel and piping contractors early in the design process. By incorporating their input into our design, it allows us to deliver a fabrication-ready model that doesn't need to be redone by the trade contractor, ultimately driving out waste in the construction process. We participated in this white paper to help make the case to Owners that collaborative project delivery brings real value in the reduction of project schedule and budget."
Woodgate joined SSOE in 2013 as Structural Department Manager through the firm's merger with Evergreen EDC. In 2016, he was promoted to Division Manager of SSOE's Advanced Technology SBU. In 2017, he was named a Principal of the firm and in 2019, he became the SBU Manager for the firm's Advanced Technology group.
The EXC was formed in 2018 and is composed of a select group of high-level executives from the following leading engineering firms in North America: AEI, Buro Happold, Canam Group, The Hatfield Group, The Hill Group, Lera Consulting Structural Engineers, Rutherford + Chekene, Southland Industries, SSOE Group, and Thornton Tomasetti. Sponsored by Autodesk, this group meets to explore issues affecting the architectural, engineering, and construction industry, discuss best practices among peers, and work collaboratively to arrive at solutions. The purpose of the Council is to identify and discuss industry-agnostic transformative technology trends, key business challenges, and opportunities to better understand the impact of these forces on the industry.
https://www.ssoe.com/wp-content/uploads/autodesk_150x150.png
150
150
Jenni Roder
/wp-content/uploads/2018/05/logo_ssoe.png
Jenni Roder
2020-09-21 15:01:10
2020-09-21 16:55:05
SSOE's Jeremy Woodgate Co-Authors North American Engineering Executive Council's "Passing the Baton – Better Project Handoff Processes with BIM" Whitepaper